The helmet-topped engineer drove his pointy instrument into the concrete to test whether Durmuş Uygun's building will crumble when the feared big quake finally strikes İstanbul.
"I'm pretty confident but my children aren't convinced, so we're having this test done," said Uygun, who lives in one of the Turkish megalopolis's poorer and more densely packed neighborhoods.
"If the result is good, we will live in peace. But who knows where we will be when the earthquake hits? We may be at the supermarket or at work — that's what scares us."
In his fifties and wearing a black beret, Uygun is far from the only one living in fear in İstanbul.
Turkey's cultural and economic capital is home to up to 20 million people, many still haunted by memories of the last "Big One" that struck just east of the city in 1999. More than 17,000 people died, including 1,000 in İstanbul.
The city has grown substantially since then, becoming a magnet for people attracted by its booming economy — and oblivious to the active fault line running along its southern edge.
That changed on February 6, when a 7.8-magnitude earthquake killed more than 48,000 in southeastern Turkey and nearly 6,000 over the border in Syria, leaving entire cities in ruins.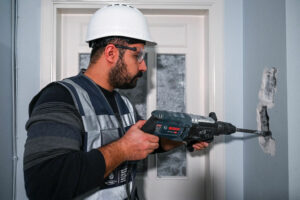 A state of collective psychosis has since gripped İstanbulites, who have requested more than 140,000 checks of the type being conducted on Uygun's apartment building.
Disaster a 47-percent chance
By the municipality's own admission, nearly 100,000 buildings will collapse or be seriously damaged in the event of a 7.5-magnitude quake.
Fifty teams of engineers have been roaming the city since last month's disaster, measuring the quality of concrete and the width of steel reinforcement bars.
If the risk to the building is deemed "very high", it could be condemned to demolition and occupants forced to move out.
Some of İstanbul's southern districts lie just 15 kilometers (nine miles) from the North Anatolian Fault, which is distinct from the equally active East Anatolian Fault on which last month's quake struck.
Seismologists have calculated a 47-percent chance of an earthquake with a magnitude above 7.3 hitting İstanbul within 30 years.
Two blocks from Uygun's building, hardware store owner Ali Nezir has started selling whistles to locals who fear getting trapped under tons of concrete.
"People are scared," said Nezir, whose small shop is on the ground floor of a 12-storey tower.
Whistles and water bottles
Some residents say they have started storing biscuits and water bottles at the foot of their beds in case the quake comes in the middle of the night, leaving them trapped.
Uygun has prepared some emergency bags for his family containing enough to survive on while waiting for help.
Uğur Erisoğlu, an İstanbul wholesaler, offers earthquake survival bags for 200 lira ($10) containing torches, blankets, medical kits and neck braces.
"We used to sell 1,000 a month," Erisoglu said. "We have received 15,000 orders since the earthquake, including 8,000 from İstanbul."
The sudden reminder of the threat hanging over Turkey's main city is forcing some to seriously contemplate moving home.
"There is strong demand for northern districts of İstanbul, further from the fault line, and for individual houses," said Mehmet Erkek, the general manager of Zingat, a real estate listings platform.
Searches have also exploded for cities such as Edirne and Kırklareli, located in a less quake-prone region 200 kilometers northwest of İstanbul.
'Always on alert'
Nil Akat, a clinical psychologist, says she has been receiving patients "who are making very concrete plans to move out of İstanbul."
"Many no longer feel safe at home. They are on high alert, always on alert. Out on the street, they pick out safer looking sidewalks in case a building should collapse."
Akat said she spoke to some colleagues who told her: "Some (of our patients) can no longer think rationally."
This fear can grip anyone, without distinction for age or social class, she said.
Çisel Aktimur, a young İstanbulite who enjoys a breathtaking view of the city from her 12th-floor apartment, had been thinking of leaving for some time.
Last month's disaster has made moving a "priority," she said.
"Even if nothing happens to my building, I probably wouldn't be able to bear what I see," she said.
© Agence France-Presse