Turkish Finance Minister Nureddin Nebati, who has been at the helm of the country's economy since December 2021, is the least successful minister among all members of the cabinet, according to the results of a recent survey.
The survey, conducted in July by ASAL Research and Consulting, asked respondents to name the ministers they find most successful in the cabinet.
Nebati came out as the least successful minister according to the survey results, garnering only 1.2 percent support, while Foreign Minister Mevlüt Çavuşoğlu was the most successful, registering 14.6 percent support.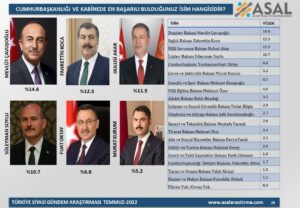 Çavuşoğlu was followed by Health Minister Fahrettin Koca, who garnered support of 12.3 percent, and then by Defense Minister Hulusi Akar, who got 11.5 percent.
The survey's results come at a time when recent increases in food and utilities continue to cripple the purchasing power of Turks as yearly inflation reached a record level of 78.6 percent in June, up from 73.5 percent in May, the highest level of inflation since January 1998, with unofficial estimates published by Turkish economists showing prices rising at more than double that figure.
Nebati is notorious for his controversial statements, which disregard the poor performance of Turkey's economy.
The Turkish currency declined 44 percent last year, mostly after a series of rate cuts long sought by President Recep Tayyip Erdoğan, which sparked a currency crisis and sent inflation to a 24-year high.
Nebati drew criticism and ridicule on social media for using Islamic-nationalist rhetoric when talking about annual inflation, which in February reached 54.4 percent, a two-decade high at the time.
"Good things will always come to this country. Don't worry about it. Don't feel sad. We all have an ideal. Our flag won't touch the ground and the adhan [call to prayer] won't be silenced," the minister said.
His remarks on the flag and the call to prayer, which are frequently used by members of the ruling Justice and Development Party (AKP) in times of crisis, led many to believe that his ouster was imminent.
He was also ridiculed on social media right after his appointment in December for asking a reporter to look into his eyes and tell him what she saw when asked during an interview to provide information on the country's new economic plan.
"The statistics are so good. Look into my eyes, Ms. Gülçin. What do you see?" the minister said in response to a question by news anchor Gülçin Üstün Can regarding data on the country's economy plan during an interview on the state-run TRT Haber.