Turkish drone manufacturer Baykar has not supplied and has categorically ruled out ever supplying its products to Russia, the CEO of Baykar told CNN International on Tuesday.
Interviewed by CNN today regarding the Bayraktar TB2 and its operations in Ukraine and elsewhere. Thank you for hosting me @jchatterleyCNN pic.twitter.com/TTIkCVuJ9M

— Haluk Bayraktar (@haluk) July 18, 2022
One of Baykar's directors is Selçuk Bayraktar, the husband of Turkish President Recep Tayyip Erdoğan's youngest daughter. Haluk Bayraktar, Baykar's CEO, is Selçuk's brother.
Turkey has never announced any military aid to Ukraine, but Kyiv has said the Turkish drones it had at the start of the war had proven their worth against Russian forces.
"Turkey and Ukraine have a strategic level of relations, especially in the field of aerospace and defense. These are years of effort," Bayraktar told CNN.
"Turkey is supporting Ukraine with armed drone technology. We are procuring from Ukraine turbine engines for drones," said the Baykar CEO, adding that they support Ukraine.
When asked about the possibility of supplying Baykar's products to Russia, he said that would never happen. "We have not delivered or supplied them [Russia] with anything, and we will never do such a thing. We support Ukraine, we support its sovereignty, we support its [struggle] for its independence," Bayraktar said.
Ukraine has bought more than 20 Bayraktar TB2 armed drones from Baykar in recent years and ordered a further 16 on Jan. 27, delivered in early March.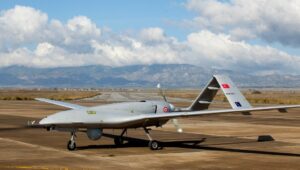 Ankara and Kyiv have long-standing defense cooperation ties.
A member of the NATO military alliance, Turkey shares a maritime border with Ukraine and Russia in the Black Sea, has good ties with both and has offered to mediate.
While it has continued to supply drones to Ukraine, it has also avoided imposing sanctions on Moscow.