A Turkish-American imam in New York was charged with attempted child sex abuse after he was busted in a civilian sting operation that exposes pedophiles on YouTube, the New York Post reported.
Ahmet Yücetürk, who was previously the imam at JFK Airport's International Islamic Center, was arrested Monday for sexting with an individual he believed was 14 years old and making plans to meet up with her, police and prosecutors said.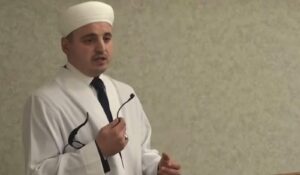 The 42-year-old Long Island resident was charged with two felony counts for attempted criminal sex act with a minor and attempted dissemination of indecent material to a minor, court records show.
Yücetürk was originally caught in the crosshairs of the YouTube page "NYCreeps Spotlight" — a modern-day version of the NBC show "To Catch a Predator" — that aims to lure in pedophiles on social media apps by posing as teenagers, the page's creator "FM" told the Post.
The creator, who spoke on condition of anonymity and previously busted a Department of Homeless Services police officer, said he and adult women pose as teens on social media apps and wait for older men to reach out to the accounts so they can be exposed on his YouTube page.
In late November, Yüceturk allegedly messaged one of the accounts and told the "teen" he was 40, according to records of the texts, which were turned over to the NYPD.
Following Yücetürk's arrest, cops obtained surveillance footage that showed him knocking on the apartment door the apparent teen gave him after they made plans to meet up, court records say.
Yücetürk, who has been featured in Port Authority of New York and New Jersey blog posts and quoted in Time magazine and The New York Times, was released on his own recognizance following his arraignment and is due back in court in January.