Newly released judicial documents have revealed that Reza Zarrab, an Iranian-Turkish gold trader who back in 2017 struck a plea deal in a sanctions evasion trial before a New York federal court, was freed on bail in 2018, Voice of America (VOA) Turkish service reported on Tuesday.
According to the documents, which were released on the judiciary electronic system by US District Judge Richard Berman, who presided over the trial, Zarrab applied to the US authorities requesting his release on bail pending trial, to which the judge agreed.
Zarrab signed a $5 million bail bond and secured it with $100,000 to the federal court in order to be released on bail, documents further showed.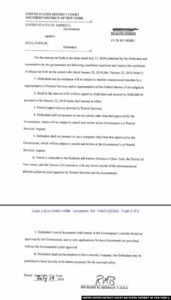 Zarrab's bail conditions included some restrictions, such as not being allowed to possess or use any phone or computer other than those approved by the US government and being able to travel only within some districts of New York and Florida without prior approval by "Pretrial Services and the government."
According to the conditions, Zarrab and his residence would also be subject to random unannounced searches by a representative of Pretrial Services and/or a representative of the Federal Bureau of Investigation (FBI).
Zarrab was the star witness in the trial where he, Mehmet Hakan Atilla, an executive at Turkey's state-owned Halkbank, and seven other people, including Turkey's former economy minister and two additional Halkbank executives, were charged with engaging in transactions worth hundreds of millions of dollars for Iran's government and Iranian entities from 2010 to 2015 in a scheme to evade US sanctions.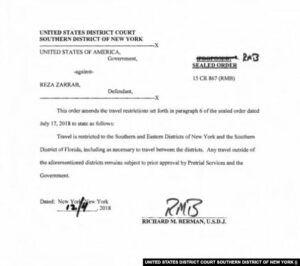 Zarrab, who previously had avoided justice in Turkey despite being the prime suspect in a corruption investigation implicating Erdoğan's cabinet and family, gave a detailed account of the scheme during his seven-day testimony and disappeared after his last appearance in court, on December 8, 2017, never to be seen again, until recently.
A report published on October 22 by Adem Yavuz Arslan, a Turkish journalist in exile working for the TR724 news website, revealed that Erdoğan's friend-turned-foe was currently living in Davie, Florida, under the name of Aaron Goldsmith.
Zarrab testified in December 2017 that he had bribed Turkey's former economy minister, Mehmet Zafer Çağlayan, in a scheme to smuggle gold for oil in violation of US sanctions on Iran and that then-prime minister and current President Erdoğan personally authorized the involvement of Turkish banks in the scheme, although he was not charged in the case.
Zarrab was one of the main suspects in the December 17-25 bribery and corruption investigations that shook the country back in 2013. He was accused of paying large bribes to Turkish ministers and bureaucrats as part of the probe that implicated, among others, the family members of four cabinet ministers and Erdoğan's children.
Despite the scandal resulting in the resignation of the cabinet members, the investigation was dropped after prosecutors and police chiefs were removed from the case. Erdoğan, officials of the ruling AKP and the pro-government media described the investigation as an attempt to overthrow the government.
Dismissing the investigation as a conspiracy against his government by the Gülen movement, a group inspired by Muslim cleric Fethullah Gülen, Erdoğan designated the faith-based movement as a terrorist organization and began to target its members.
He locked up thousands, including many prosecutors, judges and police officers involved in the investigation.
The closed Dec. 17 investigation had come into the spotlight once more back in August, when Erdoğan Bayraktar, the former Turkish minister of environment and urban planning and one of the four ministers implicated in the 2013 probes, confirmed the validity of charges against him in connection with the graft scandal.