An İstanbul court has released five Boğaziçi University students who were recently detained after new rector Naci İnci filed a complaint with the police about students who took part in protests against his appointment, local media reported on Wednesday.
İnci complained that the students had threatened, insulted and prevented him from doing his job. They had also damaged property and violated the law on demonstrations and protests, he claimed. According to İnci, the students insulted him by carrying banners that called him a government-appointed trustee and by stopping his car on the university campus.
The five students, who had been detained and referred to court for house arrest after İnci's complaint, were released and placed under judicial supervision on Wednesday, local media reports said.
The development comes a week after two out of seven Boğaziçi University students who were detained following the complaint filed by İnci were arrested.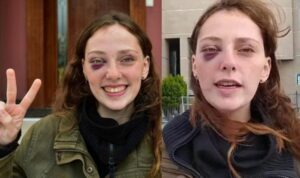 Police intervened in the demonstrations at the university, which were held to protest the arrest of the two students. A photo of Mısra Sapan, one of the students detained while protesting the arrest of her friends, with a black eye due to bruises caused by police officers, was widely shared on social media on Tuesday.
Sapan's lawyer, Gökhan Soysal, on Tuesday told Sözcü that they would file a complaint against the officers who deliberately hit her client in the face while detaining her and after putting her in a police vehicle.
A prolonged series of protests broke out at the university after President Recep Tayyip Erdoğan appointed Melih Bulu a founding member of the ruling Justice and Development Party's (AKP) Sarıyer district branch and former deputy chairman of the AKP's İstanbul provincial chapter, as rector in early January.
Bulu was dismissed in July, and İnci, a former deputy to Bulu, was appointed despite a 95 percent disapproval rating he received in polls held among the university community to determine possible rector candidates.
Seventeen candidates emerged with high rates of approval; however, Erdoğan appointed İnci, prompting outrage among academics and students.