Cevheri Güven
For several days Turkey has been rocked by a series of revelations made by mob boss Sedat Peker on his YouTube channel. Peker's accounts of the alleged extortion of valuable assets from Azeri oligarch Mübariz Mansimov, on the background of Mansimov's arrest on terrorism allegations in Turkey and an alleged assassination plot against Mansimov brought to the fore details about the handover of billions of dollars of assets in the Turkey-Russia-Azerbaijan triangle. Each video has unveiled a new web of obscure relations and the circumstances surrounding a number of seemingly criminal acts.
An oligarch who rose quickly
A former officer in the Soviet Army, Mansimov moved in 1998 from Azerbaijan to Turkey, where he became a naturalized citizen in 2007. The chairman of the Turkish-based Palmali Group of Companies, he enjoyed a remarkably rapid rise in the business world and in 2014 became one of Turkey's 10 wealthiest businesspeople. In 2015 he made it into Forbes' list of the top 500 worldwide.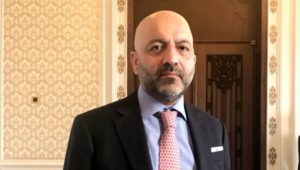 Mansimov's main line of business was sea freight, particularly the shipping of oil and chemicals. His second largest investment was a $1 billion luxury yacht marina in the southwestern Turkish resort of Bodrum. He also owns 50 percent of Tekfen, one of Turkey's foremost construction companies, which also operates in Russia and Azerbaijan.
The driving force behind Mansimov's whirlwind growth was two contracts that he struck in 2006 to transport oil for Lukoil, Russia's second biggest energy corporation, as well as SOCAR, Azerbaijan's state-owned national oil and gas company, which made him into one of the region's leading oligarchs. At one point he was responsible for two-thirds of the oil shipments from the Black Sea.
During that time Mansimov fostered close contacts with Turkish political power circles, including President Recep Tayyip Erdoğan and his son Bilal Erdoğan, whose close relatives owned the BMZ Group, from which Mansimov leased freighters for astronomical amounts of money.
Simultaneous with Mansimov's ascent, Azerbaijan's SOCAR made large investments in Turkey, including the purchase of PETKİM, Turkey's leading petrochemicals company. Russian Lukoil also had Azeri ownership.
In addition to his ties to Erdoğan, Mansimov developed contacts with the family of Mehmet Ağar, a former interior minister who in recent years appears to have become an external partner for Erdoğan's government. Prior to his time as a cabinet minister in the 1990s, Ağar was at the helm of the national police and had a reputation for being particularly heavy-handed in dealing with unrest in the predominantly Kurdish southeastern provinces. His name was also implicated in the alleged abduction, torture and murder of a number of Kurds. According to a widely held belief, Ağar is a central figure in what many describe as Turkey's "deep state." For the last six years, he has also been providing support for the government's crackdown on the Kurdish political opposition as well as the faith-based Gülen movement, which it accuses of orchestrating a failed coup in 2016, by using far-right networks within the police that are still loyal to him towards that end. Erdoğan fulfilled Ağar's appointment requests for the police brass, while Mansimov brought Ağar's son, Tolga Ağar, onto the board of directors of the Yalıkavak Marina, rewarding Mehmet Ağar by granting him the privilege of staying and hosting guests at the marina free of charge.
Mansimov also made several moves aimed at scoring sympathy points among the Turkish public, such as his winning bid at an auction to pay $77,500 for a handmade Turkish flag.
He was also one of the invitees to Donald Trump's inauguration in Washington. When İstanbul's Trump Towers were constructed in 2009, Mansimov was one of the first clients with his purchase of eight apartments, including the penthouse.
First hit from Lukoil
Alarm bells started to ring for Mansimov in 2016 when, after a 40 percent drop in petroleum prices during the preceding decade, Lukoil and SOCAR began looking for ways to get out of their deals with him. Mansimov, who had been instrumental in the financing of strongmen in Turkey, Azerbaijan and Russia, insisted on remaining loyal to the contracts. Having assembled a large fleet of freighters by taking out loans from German, British and Russian banks, Mansimov needed to keep the deal alive in order to stay afloat.
In 2017 Lukoil began purchasing shipping services from other companies. In reaction, Mansimov took the case to the British courts, per the agreement. Palmali sued for $2 billion in damages for contract violation.
In January 2018 Palmali was blacklisted by Lukoil and SOCAR. Lukoil terminated its contract with Palmali, while SOCAR first banned Palmali's freighters from entering its ports and refineries and later declared their contract null and void.
Palmali sued both companies in UK courts. In his statements to the Turkish press, Mansimov said the deals were solid and that he was sure to win the cases. The journalists monitoring the legal process were also of the impression that things were improving in Palmali's favor. The counterattack came from Russia, where the media claimed that Mansimov cooperated with Erdoğan to carry and internationally distribute Syrian oil sold by the Islamic State in Iraq and the Levant (ISIL) terrorist group.
Erdoğan sides with SOCAR
With investments worth $15 billion, Azerbaijan's state-owned SOCAR is the biggest foreign investor in Turkey. Mansimov's legal dispute with SOCAR meant in fact friction with the Aliyev family, which runs Azerbaijan. During the tensions Mansimov began to post social media messages about corruption allegations implicating people close to the Aliyev family, which were significant as they were indicative of the depth of the conflict.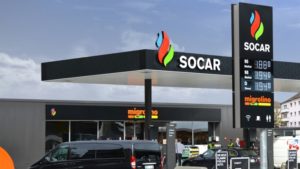 Erdoğan had ties to both Mansimov and SOCAR. In 2013, following their first investments in Turkey, SOCAR began a partnership with Remzi Gür, a businessman and a financial supporter of Erdoğan who is portrayed as one of the Turkish president's shields for disguising his personal involvement in business. That is why SOCAR's partnership with Gür was widely perceived as a partnership with Erdoğan himself.
Erdoğan's ties to SOCAR were not limited to Gür. Until 2013 Erdoğan's brother-in-law Ziya İlgen owned 6 percent of SOCAR's Turkish-based subsidiary SOCAR Gaz Ticareti A.Ş. In September 2013 İlgen transferred his shares to Ayyıldız Holding A.Ş., founded by the pro-Erdoğan Kalyoncu family. Ten days after the transfer of shares Ayyıldız changed its name to Zirve Holding A.Ş. Three months later it purchased the Sabah newspaper and ATV, Turkey's largest media outlets, granting Erdoğan a significant amount of control over the mainstream media through SOCAR funding.
Erdoğan's business links with Mansimov were established through his son and relatives. His son Bilal Erdoğan, his brother Mustafa Erdoğan and his brother-in-law Ziya İlgen are partners in the BMZ Group, which had a complicated commercial involvement with Mansimov. For $100 million the group purchased five freighters which it leased to Palmali for 10 years at an exorbitant price. According to the deal, Palmali was to pay off the loans taken out for the purchase of the freighters.
Having lucrative relations with both SOCAR and Mansimov, Erdoğan found the occasion to capitalize on the tensions between the two sides in Turkey's military coup attempt of July 2016 in the aftermath of which he forced not only Turkish citizens but anyone with an investment in the country to choose sides.
Days after the failed putsch, on Aug. 5, Erdoğan's son-in-law and then-Treasury and Finance Minister Berat Albayrak paid a visit to SOCAR's Turkey office after which he said, "It was important for us to see that SOCAR, as one of Turkey's most significant investors, was on our side at this time."
Following the visit some 200 employees of the SOCAR-owned PETKİM were compelled to quit, many of whom would be subsequently arrested. They were charged with links to the Gülen movement. In exchange for throwing his weight behind SOCAR in the company's clash with Mansimov, Erdoğan asked for a purge of alleged Gülen followers in Azerbaijan. Baku complied, cracking down on the Gülen-affiliated network in the country and rigorously removed alleged sympathizers from SOCAR.
Afterwards, SOCAR established new companies to purchase the BMZ Group's freighters so as to prevent the Erdoğan family from suffering losses in their dealings with Mansimov. To that end, a complex mechanism was put into place as SOCAR established SOCAR Logistics DMCC in the United Arab Emirates on Sept. 7, 2016. This new, Dubai-based company in turn set up five newer companies in Malta named Milagress, Caminero, Prover, Blue Lake Star and Planeo. In the early days of 2017 these five companies separately bought the Erdoğan family's freighters and renamed them. The payment was made directly to the BMZ Group.
Mansimov was the one who paid off the loans BMZ had taken out to have the ships built. While the Erdoğan family sold the freighters, their cost of about $80 million was left to Mansimov's company.
Ali Haydar Hakverdi, an MP for the main opposition Republican People's Party (CHP), brought up the issue in a written questionnaire he directed to Erdoğan in which he asked the following questions:
"How many ships has SOCAR purchased for how much from the fleet of the BMZ Group owned by Bilal Erdoğan, Mustafa Erdoğan and Ziya İlgen? Are these vessels registered in Malta and are they Maltese flagged?"
"Does Remzi Gür, a clothing tycoon and a close friend of President Erdoğan, do business with SOCAR? Has he founded companies to do that? Has Remzi Gür ever been involved in the energy sector?"
"Does President Erdoğan himself or any of his relatives have direct or indirect partnerships in SOCAR?"
Erdoğan left the CHP deputy's questions unanswered.
The events preceding Mansimov's arrest
After SOCAR took the necessary action to provide relief for the Erdoğan family, the noose began to tighten around Mansimov. During that time British, German and Russian banks started to confiscate Palmali's vessels on account of failure to repay loans. As Mansimov's companies slid towards bankruptcy, the only thing he counted on was his multibillion dollar lawsuits in the UK which could allow his company to recover losses from contract terminations.
While the cases in the UK were drawing closer to a conclusion, Mansimov began to face new perils in Turkey, the details of which were included among Peker's revelations.
The mob boss, who fled abroad following a dispute with Albayrak when the latter was conducting Erdoğan's energy dealings, revealed striking background information on the matter.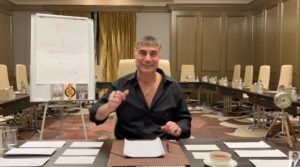 In a series of videos which he shot from his current base in Dubai and posted on his personal YouTube channel, drawing millions of views each, Peker made several revelations involving, among others, Mehmet Ağar, a former right-wing politician and interior minister who in recent years has come to be described as the third partner of Erdoğan's ruling tandem with nationalist leader Devlet Bahçeli. One of the allegations he put forward was that Ağar had hired a hitman from Azerbaijan to assassinate Mansimov.
According to Peker, in order to lay hands on Mansimov's assets, an Azeri citizen named Nadir Salifov, who is also referred to by the nickname Lotu Quli, was brought to Turkey. Salifov is known as one of the biggest fruit and vegetable retailers of the South Caucasus and is frequently accused of using his line of business to cover up the large-scale shipment of drugs across the region.
In 2019 Salifov was involved in a firefight with a Bulgarian group that broke out for unknown reasons in Turkey's northwestern border province of Edirne. The shootout claimed the life of a Turkish police officer, and Salifov, who was detained afterwards, was hastily deported to Azerbaijan, without appearing before a court.
Peker claimed that while Salifov was in custody, Ağar phoned Mustafa Çalışkan, the head of the İstanbul police department, asking for his release. Çalışkan said while it was not possible to release Salifov, deportation was an option. As a result Salifov was quickly sent to Azerbaijan by court order. According to Peker, Ağar later used his connections to bring Salifov back to Turkey, despite the court-ordered deportation, and Salifov was tasked with taking Mansimov out.
Peker claimed that he had warned Salifov against returning to Turkey, which Salifov ignored. According to sources who spoke to Turkish Minute, Mansimov's tensions with Ağar led him to suspect that he could be murdered and thus to make a deal with Peker for his protection. Peker, at the helm of Turkey's most powerful mafia group, was at the time a staunch supporter of Erdoğan and was the right choice for Mansimov's protection. Ultimately, the plan to assassinate Mansimov was scrapped after Peker agreed to protect him and personally talked to Salifov.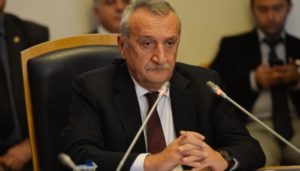 Afterwards, Ağar changed his strategy and asked for the appointment of people close to him to head police units dealing with narcotics, organized crime, counterterrorism and intelligence. As his request was granted, particularly from early 2020 onwards, a new situation developed for Mansimov.
After it was discovered that Peker was the one protecting Mansimov, the first steps were taken to neutralize him. At an İstanbul courthouse where Albayrak was perceived to be influential, an investigation was launched into Peker on charges of organized crime.
Peker, who got wind of the probe, abruptly left Turkey in February 2020 and settled in Montenegro.
Mansimov succumbs to pressure
Losing Peker's patronage meant hard days for Mansimov, who in March 2020 was arrested over alleged Gülen links as part of an İstanbul-based investigation.
Having ties to the Gülen movement is the most serious politically motivated charge in today's Turkey where over half a million people have been investigated and more than 100,000 have been arrested as part of Gülen-related prosecutions since the 2016 failed coup.
Although Mansimov tried to explain that he had nothing to do with the Gülen group, it did not take him long to understand that his defense meant nothing to the Turkish judiciary. In letters written from prison, he said he was the victim of a trap set by Ağar and SOCAR aimed at forcing him to withdraw his cases in the UK courts. Mansimov's letters to President Erdoğan also yielded no results.
In March 2020 Peker began releasing YouTube videos from abroad, explaining his bewilderment at the fact that Berat Albayrak would target him after all the years he spent supporting Erdoğan and doing everything he could to ensure that he remained in power.
Indeed, Peker had cooperated with Erdoğan on a number of fronts including arms shipments to war-torn Syria and organizing pro-Erdoğan rallies in provinces with predominantly nationalist populations. He had threatened to "bathe in the blood of" a group of academics who drew the government's ire by releasing a joint declaration calling for a peaceful settlement of the Kurdish issue and criticizing the state's overly militarized handling of it. Peker also vowed to hang Gülen sympathizers from the street lamps. After three videos he posted from Montenegro in which he enquired why he was in Albayrak's crosshairs, Peker stopped the videos.
While Peker was puzzled about his predicament in early 2020, the truth about what happened would be revealed shortly afterwards. Ağar and his son, Tolga Ağar, who is a deputy for Erdoğan's ruling Justice and Development Party (AKP), set up a scheme to take over the Bodrum Yalıkavak Marina, valued at $1 billion, that belonged to Mansimov, who was no longer protected by Peker. Mehmet Ağar became chairman of the board of Europe's largest luxury yacht marina, and the company that owned the marina sold its shares to newly established shell corporations set up in tax havens.
After losing his fleet of freighters to banks over his unpaid loans, Mansimov also lost the marina, the most valuable of his assets, which changed hands for $29 million despite being valued at an estimated $1 billion. Mansimov sued the company's executives and board members in court, which has so far not made any tangible progress. Nadir Salifov, whom Mansimov could point to as evidence of the assassination plot against him, was killed in Antalya by another hitman. The Azeri oligarch had lost all his cards.
During Mansimov's imprisonment, his UK lawsuits against SOCAR came to their final stage. Yet, his lawyers took a surprisingly passive stance and stopped submitting documentation related to the contracts, giving way to SOCAR's victory in both cases.
Shortly afterwards, on March 5, 2021, Mansimov was released into house arrest with an electronic bracelet on his ankle. As the court sent him home, it also sentenced him to five years in prison. Turning into a political hostage, Mansimov retreated into a deep silence at his home in İstanbul.
Crime boss Peker shakes Turkey
Known for his eagerness to appear in the media, Mansimov subsided into silence while mob boss Sedat Peker surprisingly reappeared on the scene. He had first moved from Montenegro to Morocco and then to Dubai. As he was getting ready to move between countries, his sumptuous mansion in İstanbul was raided by the police, at which point he narrowly escaped extradition to Turkey by leaving Montenegro.
After arriving in the UAE, which is diplomatically at odds with Erdoğan's government, he resumed releasing videos. In apparent fury at the treatment by the police who during the raid on his home in İstanbul reportedly pointed weapons at his little daughters and his wife as well as the fact that the raid was carried out in the presence of cameras and was broadcast, Peker expressed his anger in the first two videos. Subsequently, he explained that he was under attack by Mehmet Ağar and a circle of his affiliates within the police as part of efforts to take possession of Mansimov's wealth. Peker recounted the details of the entire operation, from the hiring of the hitman from Azerbaijan to the takeover of the marina's management.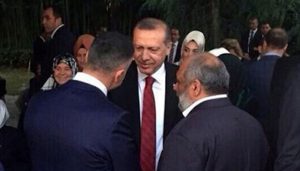 In the videos, Peker offered substantiated and precise details and evidential elements that would greatly facilitate the task for a prosecutor to investigate the allegations. In the third video, Peker began targeting Interior Minister Süleyman Soylu as well. Reminding that he had worked with Soylu for years and supported his rise to popularity in politics, Peker went on to make a scandalous revelation and said Soylu was the one who informed him beforehand about the criminal investigation into him, buying him time to flee abroad before the execution of an arrest warrant. Peker also said he had stopped releasing videos in Montenegro at Soylu's request in exchange for his promise that he would see to it that the charges against Peker were dropped in order to ensure Peker's safe return to Turkey in March 2021.
Although Soylu has categorically denied Peker's allegations, the mafia boss seems to have won significant public support as evidenced by the popularity of his videos that are viewed millions of times.
Peker has also revealed that he was responsible for a physical assault on Feyzi İşbaşaran, a former lawmaker who was battered by his men at the request of a ruling party executive while he was in police custody for criticizing Erdoğan's family.
Peker's real target, however, was Mehmet Ağar. According to his account, Ağar's son Tolga Ağar who is still an AKP deputy, had invited Yeldana Kaharman, a 21-year-old Kazakh student and journalist working for a local television station, under the pretext of an interview and raped her. The young woman filed a complaint with the authorities but was found dead under suspicious circumstances a few days later. Peker claimed that the incident was covered up by the gendarmerie and that Kaharman's written complaint was destroyed.
Peker also said Ağar's associates in the police departments were detaining businesspeople on Gülen-related charges and then releasing them and dropping the charges against them in exchange for a significant portion of their assets.
Driving Interior Minister Soylu and prominent deep state figure Mehmet Ağar into a corner with his announcements, Peker has yet to make any accusation that directly implicates Erdoğan himself. On the contrary, he has been careful in his choice of words when it comes to the president. Yet, one piece of paper he was waving in one of the videos contained a note that drew particular attention: "Arms sent to Syria."
The note was significant in that Peker had in the past publicly showcased his aid shipments bound for the Free Syrian Army, including dozens of off-road vehicles, steel vests and humanitarian aid that were loaded into trucks carrying banners that featured his full name, Reis Sedat Peker. Some have alleged, however, that the shipments heading for Syria were not limited to these items and that Erdoğan's son-in-law Berat Albayrak was in charge of an operation for the shipping of arms to Syria. There have also been allegations that Peker had run afoul of Albayrak because he received a bigger commission out of the deal than him.
Peker has not spoken about what he did at Erdoğan's instructions or about the Syria-related allegations. Nevertheless, he has become a major opposition figure, with each of his videos receiving several millions of views.
Erdoğan, who is known for imposing heavy censorship on any criticism of him on the Internet, has not had access to Peker's videos banned, which has prompted much speculation. According to backstage rumors in Ankara, Erdoğan is planning to get rid of both Ağar and Soylu and will begin to bargain with Peker once these two figures are sufficiently exhausted for him to easily purge.