Alin Ozinian
Armenians in Turkey, who are mainly concentrated in Istanbul, will celebrate Easter on Sunday at home this year due to restrictions imposed in the fight against the pandemic, with Easter services in all Armenian churches in the city held without public attendance.
The people of the first country in the world to adopt Christianity as a state religion in AD 301, Armenians still observe the religious traditions and customs surrounding Easter in Turkey and other mainly Muslim countries.
Easter is one of the most famous and important feasts for Armenians in Turkey, like Armenians the world over. During Easter, "Surb Zadik" in Armenian, Armenian Apostolic churches celebrate the resurrection of Jesus Christ after His crucifixion by the Romans, saving humanity through the absolution of sins.
The Armenian Apostolic Church celebrates Easter on the first Sunday following the Paschal Full Moon after the spring equinox; therefore, there is no set date for this holiday as it changes every year. It is consistently celebrated between March 22 to April 26, and the holy celebration will take place this year on April 4.
Today, only around 150,000-180,000 Christians live in Turkey, the largest number of whom are believed to be 50,000-60,000 Armenian Apostolic. According to government data, as of 2006 the Christian Greek population numbered some 2,500.
The young generation of Istanbul-Armenians who, compared to the previous generation, is more confident about its Armenian identity and holidays, mainly think religious celebrations have cultural meaning.
Melisa, a 39-year-old Armenian working as an accountant in Istanbul, gives huge importance to Easter celebrations, which is an important way of transmitting culture for her and her family.
"Easter is more cultural for me than religious. I cook different traditional Istanbul-Armenian dishes that my grandmother made in the past. Of course, the most important ritual is the preparation and baking of the choreg, which reminds me of my grandmother, whom I lost five years ago. While cooking I remember her family stories and her love for her grandchildren. I cherish her by baking choreg. It's a way for me to say – Hey, yaya [Greek word for grandma which also used by Istanbul-Armenians], look, you are still alive in my house!" Melisa told Turkish Minute in a phone interview.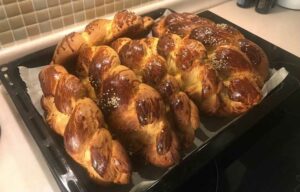 Armenian choreg is a traditional bread served at Easter, sometimes with red eggs placed amid the braids. This egg-fortified sweet bread, almost like a mix between challah (a Kosher loaf of braided bread from Ashkenazi Jewish cuisine) and brioche (a French bread that has a high egg and butter content), with more sugar and an essential aromatic spice known as mahleb, made from seed kernels extracted from the stones of Middle Eastern cherries.
Turkish Minute spoke with Yetvart Tomasyan, the founder of Aras Publishing, about the religious traditions of Armenians who consider Turkey their home and ancestral motherland, but many of whom are today considering leaving Turkey because of the growing hate speech towards them and the unstable economic and political situation.
Aras Publishing, established in Istanbul in 1993, adopted a publication policy that quickly made it known as "the window to Armenian literature." With its books in Turkish and Armenian, it became one of the few publishing houses in Turkey that publish books in two languages. Publishing translations from Armenian authors and the Turkish works of contemporary Armenian authors, Aras aims to help people from different cultures who were born and raised in the same land and lived side by side know and understand each other better through literature as well as contributing to the common values of humanity together.
According to Tomasyan, Easter celebrations are one of the main ways for Armenians — who have a fear of losing their identity and religion at a time when nationalism and Islam are on the rise in Turkey – to preserve that identity.
"Today, our identity is somehow more apparent, we feel ourselves more visible compared to previous years, but there has also been damage to our identity. Armenians have emigrated from Turkey due to pressure. Today the Istanbul-Armenian society is damaged in terms of both quality and quantity. The Turkish government does not make any effort to protect and develop your identity and culture. We are all alone. We have only our churches and schools to preserve our identity," said Tomasyan.
The Armenian genocide, the massacres of Syriacs, Assyrians, Greeks and Chaldeans in the late Ottoman period and several anti-Christian policies targeting non-Muslims in the modern Turkish Republic resulted in the emigration of Christians to foreign countries and had a significant impact on the country's demographic structure.
Today, the overwhelming majority of Armenians, a people indigenous to Turkey, are concentrated in Istanbul. They have their own newspapers, churches and schools. Most of them belong to the Armenian Apostolic Church, while a minority belong to the Armenian Catholic Church.
Tomasyan underlines that with the exception of churches and schools, there is no other cultural or social institutional possibility for Armenians to develop their identity. "We have our children baptized when they are only one year old. Why should I decide if my child will be Christian, atheist, Buddhist or something else? That is nonsense, and none of my business. But when you live in Turkey, you carry out these religious duties as a reaction to the assimilation and pressure of the system. Easter celebrations are one of these reactions. People usually don't go to church on Sundays, but on Easter we see people in their finest clothes in churches because it's also a cultural gathering for Armenians."
Although the vast majority of Turkey's Armenians are now concentrated in Istanbul, different Armenian cultural traditions from Sason, Malatya, Diyarbakır and Yozgat still exist in multiple sub-communities in Turkey. Now all Armenians, distant from their hometowns in eastern Turkey, try to keep their family customs alive in Istanbul.
There are various Armenian traditions related to Easter. The act of planting wheat seeds is one of them. After the seeds have grown like green grass, red eggs are put on them, symbolizing new life and birth. The eggs on Armenian tables should be colored primarily in red as they represent the blood shed by Jesus.
Naturally dyed Easter eggs are a traditional part of the holiday celebration in Armenian culture like other cultures, including Russian, Serbian and Greek. Dying eggs red with natural ingredients like onion skin and cilantro, dill or parsley, is a widespread practice among Armenians.
While celebrating Easter, Armenians put fish and red wine on their tables in addition to the choreg and red eggs. Even though fish and red wine "go poorly" together, they refer to dishes mentioned in the Bible and symbolize the flesh and blood of Christ.
"Easter for me means childhood memories with the fragrance of mahleb. As the choreg sprinkled with mahleb bakes, the flavor really blossoms, you smell the very unique 'thing.' My grandmother made choreg every year. As a child, I sat next to her in the kitchen and played with the ingredients. As I grew older, I became involved in helping her with the Easter preparations, which were such a special time for me. I miss her, I miss those times in Istanbul when we Armenians were more visible and free. This is the only way I know to fulfill our longing," said Melisa.
Armenians are physically isolating from each other because of the COVID-19 pandemic, and most of them will celebrate Easter at home with no relatives in attendance this year. They will prepare the dough for the choreg and dye the eggs as proof that they still exist in Turkey.
And as Melisa says, Easter will refresh the Istanbul-Armenians' family memories that belong to Turkey, "The smell of the choreg and spices will bring back intense memories. It will feel like I am back in my grandmother's kitchen in Tatavla/Kurtuluş and helping her. And I know she will be there with me the whole time I am baking."