İbrahim Ergün, a 24-year-old Kurd from Turkey, was found hanging from the ceiling in a toilet at the Corinth migrant camp in Greece where he had spent the last 17 months. His roommate of the last half year said it was the camp's poor conditions that led to the young man's suicide. According to migrants, the camp in Corinth is a prison built to punish migrants.
Ergün took his own life in a camp 80 kilometers from Athens. Held in Corinth since December 2019, he last month received a decision of deportation back to Turkey.
Ergün was intercepted by the authorities while attempting to travel to Italy from the Greek port of Igoumenitsa in November 2019, and a month later was sent to the camp in Corinth, where some 800 men, mostly from Pakistan and Afghanistan, await deportation.
In Corinth, the Greek police hand out a document to the asylum seekers that says they will be held for 50 days. Every 50 days, the document is renewed. Ergün had been held in Corinth for the last 17 months, upon consecutive 50-day extensions. His friends say he was psychologically devastated after the decision to expel him.
Deep surgery scar in abdomen
Ergün's friends describe him as an opponent of Turkish President Recep Tayyip Erdoğan and explain that he had decided to leave Turkey after detention warrants were issued for him for attending protests in Turkey promoting Kurdish rights.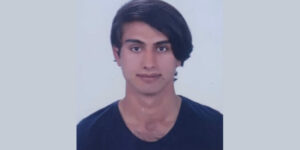 Ergün also had a deep surgical scar on his abdomen and told fellow migrants that he had previously undergone treatment for colon cancer. His friends say he was taken to the doctor once for his condition; yet, he was unable to get the doctor's report.
What drove Ergün to suicide was uncertainty and the physical conditions at the camp. The asylum seekers complain that none of them are provided with adequate information about how long they are to stay there.
"The biggest concern are bedbugs. People's bodies are covered in bites. And sleep deprivation causes you to be constantly on edge," said a migrant who spoke on condition of anonymity. "Asylum seekers are responsible for hygiene, but they are not provided hygiene products. Water heating is based on solar energy which is not sufficient in winter. It is not possible to order food, detergent or even toothpaste from the outside. The meals are terrible and you lose weight during the time you stay at the camp."
"The worst of all is the uncertainty. They put you behind bars and no one talks to you afterwards. No announcements. You do not know how long you will stay. You just receive papers of renewal every 50 days."
The migrants say the police at the camp are trying to be helpful and that they are not mistreated. Yet, they claimed that the camp's management, which they refer to as the "prison administration," was being despotic by making access to health care difficult, restricting access to hygiene products and keeping them at the camp for as long as possible. According to the asylum seekers, the management sometimes ignores court orders for the release of migrants.
Seventeen months in the same trousers and sweater
It was December when Ergün was brought to Corinth. "He was in a sweater and trousers, which he had to wear in summer and winter. He had no money," his friends said, highlighting that the camps do not receive clothing or other economic aid which, coupled with inadequate nourishment, lead many to depression.
Following Ergün's suicide, the migrants set fire to the police cabins to protest the camp's conditions. Keerfa, a civil society organization against racism, said the murderer was the policy to hold migrants for many months.