Cevheri Güven
Heysem Topalca, a notorious Syrian arms smuggler working under the alias "Ghost Commander" who since the beginning of the Syrian civil war has repeatedly made the headlines in connection with Turkey's intelligence agency, died in a suspicious traffic accident on Feb. 10. Not a single report has been published in Turkey's news media about the death. Two detention warrants were outstanding for Topalca as well as a 12-year prison sentence, and it remains a mystery how he was able to roam freely inside the country. Topalca's name had been implicated in a number of controversies such as violent terrorist attacks in Turkey, weapons shipments to Syria and the supply of sarin gas to radical groups.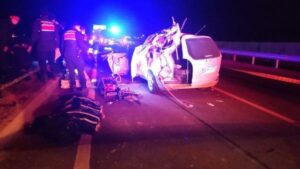 On Feb. 10, 2021 a passenger car with license plate 68 KH 911 that was carrying Topalca along with several others collided with a truck bearing plate number 06 KH 8433 around 9 p.m. while travelling on the road between Konya and Karapınar, near the village of Merdivenli. Of those in the vehicle, Topalca, Macit El Hacı Ali (33) and Bilal El Muhammed (21) were killed, while Döne Abdullah (55), Nureddin El Hac Ali (19), Abdullah El Hac, İbrahim El Muhammed (30) and Halil Bargut (15) were injured. The driver of the truck, Mustafa Usta, was released after questioning by the police, and the bodies were sent to Hatay province on Turkey's Syrian border and buried without much fanfare.
'Ghost Commander'
Topalca (Haytham Qassap, code-named Abu Salah) was a figure who came to prominence after the outbreak of the Syrian civil war in 2011. His relatively unhindered ability to travel around the Central Anatolian province of Konya, despite his conviction by Turkish courts and orders for his detention, is worthy of attention.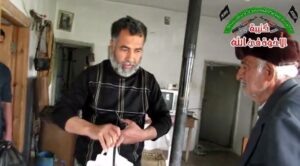 Topalca is a fugitive suspect in trials related to a bomb attack in Reyhanlı in May 2013 as well as a terrorist act connected to the Islamic State in Iraq and the Levant (ISIL) in Niğde in March 2014. In December 2015 the Adana 9th High Criminal Court sentenced him to 12 years in prison for his involvement in the smuggling to Syria of components that could be used in the production of chemical materials, in a case that is known as the "sarin gas trial."
Reyhanlı explosion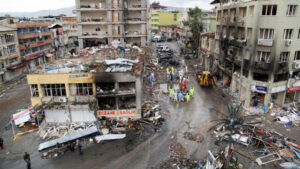 Perhaps the most striking of Topalca's involvements was a bomb attack in the residential center of the border town of Reyhanlı on May 11, 2013 that claimed the lives of 53 people. Two defendants who were detained and arrested in connection to the incident, Yusuf Nazik and Mehmet Gezer, said while they were the ones who procured vehicles for Topalca, they did it without knowing that the vehicles were to be loaded with explosives. An investigative report by the police found that Topalca was detained and released twice in Turkey and frequently came in and out of the country, even when he was being sought by the authorities.
According to a report on al-Qaeda by Turkey's General Directorate of Security (EGM), Topalca made a total of 873 border crossings between Syria and Turkey between 2011 and 2014. The report also said Topalca attended meetings of the Free Syrian Army rebel faction and that he had links to al-Qaeda and the al-Nusra Front.
Sentenced to 12 years behind bars in sarin gas trial
Shortly after the Reyhanlı bomb attack, the Adana police conducted raids on a number of locations where, according to tips received, chemical weapons materials were being procured for al-Qaeda affiliates and the al-Nusra Front in Syria. Topalca was one of five people detained in the operation during which the police also reportedly seized two kilograms of sarin gas. However, the Adana Governor's Office in a statement said it was anti-freeze and not sarin gas, as reported. All the detainees, including Topalca, were released in July 2013, following their first hearing before the court. Subsequently, a laboratory report was submitted about the seized material, confirming that it could in fact be used for manufacturing chemical weapons and that the suspects were working to that end. Based on the report, the prosecutors ordered the detention of Topalca, who at that point had disappeared without a trace.
The indictment in the case stated that the defendants were able to purchase the materials from the Ankara-based Mechanical and Chemical Industry Corp. (MKE) and that they had made the payments from a Saudi Arabian account. The indictment also said the suspects had ordered chromium tubes in order to manufacture mortars.
The case was concluded on Dec. 29, 2015 with Topalca sentenced to 12 years in prison on the charge of membership in a terrorist organization. The judgment also said the efforts to procure chemical weapons were left unfinished in a preliminary stage.
Mortars seized
The mortars mentioned in the sarin gas indictment were coincidentally found on Nov. 7, 2013 during a search conducted of a truck based on a drug-related tipoff. In the truck, the police found 953 mortar shells as well as 10 rocket launchers, all of which were dispatched for al-Nusra. The truck's driver said during his initial questioning that he had received instructions from someone named Heysem, which led to the detention of Topalca. However, he was once again released after his questioning, which, according to some allegations, was the result of an intervention by the National Intelligence Organization (MİT).
Behind the ISIL attack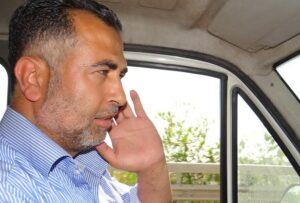 Another trial involving Topalca's name was an ISIL attack in the Central Anatolian province of Niğde in March 2014. The incident took place after ISIL militants Benyamin Xu, Çendrim Ramadani and Muhammed Zakiri, who had departed Hatay by car to go to İstanbul, were requested by security forces to pull over in Niğde. In response they opened fire with automatic weapons and killed gendarmerie sergeant Adil Kozanoğlu and police officer Adem Çoban. Topalca was also a suspect in the trial related to the attack, and the court issued a detention warrant for him. The indictment also said the three ISIL members were being transferred from Syria to İstanbul in order to carry out a bomb attack and that Topalca was involved in their being smuggled into Turkey through the border town of Yayladağı as well as ensuring their liaison with certain people in İstanbul.
Abduction of journalist
Topalca was also involved in the abduction of journalist Bünyamin Aygün, a correspondent for the Milliyet newspaper who in December 2013 met with Topalca in Syria. During a road trip together, their vehicle was stopped, and they were abducted by a radical offshoot of ISIL. When the abduction of a Milliyet reporter made the news in Turkey, MİT launched negotiations with the group. First, Topalca was released 17 days after being captured. According to Aygün's account, Topalca came back on Jan. 6, 2014 and told him: "The bargaining is still going on. You will be freed." Indeed, Aygün, too, was ultimately set free.
Gendarmerie report
It is possible to come across Topalca's name in almost every indictment that was connected to Syria as well as a number of police and gendarmerie reports released in 2013 and 2014.
According to a June 2014 gendarmerie report, Topalca was orchestrating the smuggling of historic artifacts brought from Syria as well as the theft of industrial equipment in Aleppo for sale in Turkey.
'Topalca was protected by MİT'
The response to the question of how Topalca was able to roam freely around the country despite detention warrants and a conviction is probably hidden in the testimony of Mehmet Aşkar, a defendant in the ISIL attack in Niğde who said "Me and Heysem Topalca, who said he was working for MİT, we were nabbed by soldiers while carrying weapons across the border in Yayladağı. However we were set free after a few phone calls, and we proceeded with the delivery."
Topalca's partner in Ukraine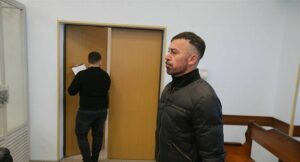 Another figure implicated in weapons transfer to Syria is former soldier Nuri Gökhan Bozkır, a captain with the Special Forces Command (ÖKK) who went to Ukraine in 2015 and never came back. Bozkır applied for asylum in Ukraine in 2019 and said that he was used by MİT in weapons smuggling to Syria and that his life would be at risk if he were extradited to Turkey. Bozkır said that between 2012 and 2015 he dispatched a total of 49 weapons shipments to Turkmens in Syria.
Regarding Turkey's request for his extradition, Bozkır said witnesses like himself have died of "heart attacks" in Turkish prisons before, mentioning a former officer colleague of his as an example.
In what amounted to a confirmation of Bozkır's remarks, Topalca was killed in a suspicious traffic accident about which the Turkish media published no reports at all.