A Turkish court on Tuesday overturned a verdict against Wall Street Journal reporter Ayla Albayrak that sentenced her to two years, one month in prison on charges of engaging in terrorist propaganda in support of the Kurdistan Workers' Party (PKK).
Albayrak was sentenced last year for a story dating back to 2015 on clashes in Turkey's Southeast.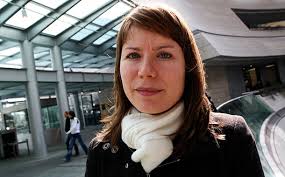 Commenting on the latest verdict on her Twitter account, Albayrak wrote that "the black comedy part of my life called 'a trial' finally ended. It's been exactly 3 years since the investigation started in Nov 2015 over a WSJ story." She underlined the overall grim picture of media freedoms in Turkey as well.
Reuters reported on Tuesday that the overturning of the verdict coincides with Ankara's effort to thaw relations with the West.
Legal action against Albayrak began on Aug. 19, 2015 for her article "Urban Warfare Escalates in Turkey's Kurdish-Majority Southeast."
The article and accompanying video reported on the state of a conflict in Turkey's majority-Kurdish-populated town of Silopi between Turkish security forces and the outlawed PKK. It included interviews with the local mayor and residents and a Turkish government official as well as a representative of the Patriotic Revolutionary Youth Movement (YDG-H), which Turkey says is the youth unit of the PKK.
Albayrak said the original article didn't include any praise for the PKK but rather provided a balanced and objective view of the urban warfare that had gripped areas of Turkey's predominantly Kurdish Southeast at the time.
"The decision shows the extent to which the authorities did not want the operations that were going on in Turkey's southeast to be reported on," said Albayrak. "It also shows yet again that the international media is not immune to the ongoing press crackdown in Turkey."
Commenting on the conviction of his reporter, Wall Street Journal Editor-in-Chief Gerard Baker said, "This was an unfounded criminal charge and wildly inappropriate conviction that wrongly singled out a balanced Wall Street Journal report."
"The sole purpose of the article was to provide objective and independent reporting on events in Turkey, and it succeeded," he added.