Pro-Erdoğan Sabah daily columnist Ersin Ramoğlu claimed in an article published on Wednesday that Turkish Islamic scholar Fethullah Gülen is a Jew and that that was the reason he was gotten hold of by the US Central Intelligence Agency (CIA).
"Fethullah Gülen is sharp witted. He quickly smells of money and power. Because he is a Jew. That's the reason he loves Israel almost to the point of sickness," wrote Ramoğlu.
"The origin of Fethullah Gülen goes back to the Karai Jews. Fuat Uğus wrote about it. That's why this dishonest [person] is close to Christians," added Ramoğlu.
Claiming that Gülen is from the Jewish Karai Turks, Ramoğlu wrote: "Where his cunning comes from, why the CIA has gotten hold of him and his love of Israel can be understood from the family of this clown."
Sabah, the flagship publication of the pro-government media, is run by the brother of Berat Albayrak, Turkey's energy minister and the son-in-law of President Recep Tayyip Erdoğan.
Speaking in Parliament on Dec. 7, Forestry Minister Veysel Eroğlu said, "Gülen will end up dying in the US, and he will be buried in a cemetery with Jews [as opposed to a proper Muslim burial]."
Gülen and the movement he inspired have been experiencing immense pressure from the Turkish government, the president and pro-government circles since corruption operations that implicated ministers and the Edoğan family were launched on Dec. 17/25, 2013.
"Jew" and "Christian" have been used as derogatory terms by the government and government media in reference to the movement. The pro-Erdoğan media also portrays Gülen as working for the CIA and MOSSAD as well as the Vatican.
The pro-government Takvim newspaper ran a lead story on Oct. 8 claiming that Gülen holds a passport from the Vatican since he receives instructions from the Catholic Church.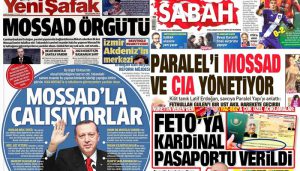 An indictment prepared by an İzmir prosecutor against individuals who were arrested over alleged links to the faith-based Gülen movement includes the claim that Gülen was appointed as a secret cardinal by John Paul II in 1998.
The government accuses the Gülen movement of masterminding a corruption probe that became public in late 2013 in which senior government members were implicated as well as a failed coup attempt on July 15 that led to the killing of more than 240.
The movement strongly denies any involvement in either of the incidents.
Gülen is a peaceful cleric who has been living in self-imposed exile in Pennsylvania since 1999. He promotes educational activities and interfaith dialogue and has attracted huge criticism from radical Islamic circles for his promotion of dialogue among religions and his meeting with John Paul II in 1998.