Police carried out multiple operations early on Monday in at least seven provinces to detain 120 officials from pro-Kurdish Peoples' Democratic Party (HDP) local branches.
While dozens of HDP officials have been detained thus far as part of an investigation into the outlawed Kurdistan Workers' Party (PKK), police officers who took part in a raid on the party's İstanbul office left messages on the walls that read "We came, you were not here," and "We will be back!"
Several pictures circulating in the media show that the HDP operations turned into violent raids with almost all offices being turned upside down.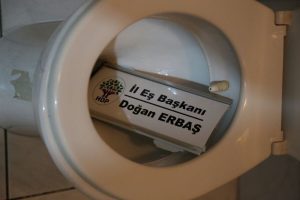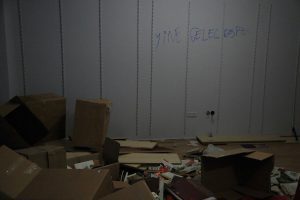 Istanbul, Ankara, Adana, Manisa, Hakkari, Mersin and Şanlıurfa are the provinces where HDP offices were targeted on Monday.
The party's Adana and Ankara branch heads are reported to have been detained.
Turkey has stepped up its crackdown on Kurdish politicians in recent months. Trustees have been appointed to dozens of municipalities in the country's predominantly Kurdish Southeast while Turkish courts earlier this month arrested 10 HDP deputies. Co-chairs Selahattin Demirtaş and Figen Yüksekdağ and deputies İdris Baluken, Leyla Birlik, Nursel Aydoğan, Selma Irmak, Ferhat Encü and Gülser Yıldırım were arrested on Nov. 4. (Turkey Purge)