The European Parliament released a press statement on Wednesday announcing a delay in the scheduled visit to Turkey of leading members due to a disagreement with Turkish authorities over the format of the meetings.
Elmar Brok, chairman of the European Parliament's foreign affairs committee, and Kati Piri, the assembly's rapporteur on Turkey, were scheduled to "hold high-level meetings with Turkish authorities and representatives of the opposition and civil society with a view to restore political dialogue," according to a statement released by the president of the European Parliament, Martin Schulz.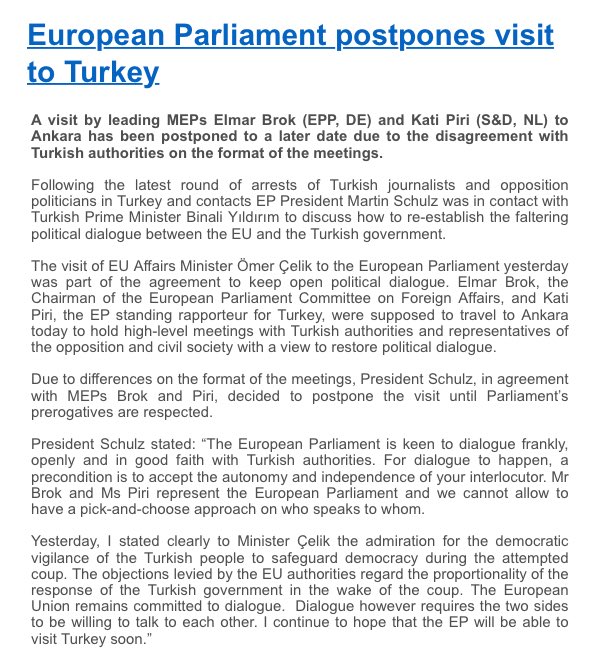 The statement said the visit by European Parliament deputies Kati Piri and Elmar Brok had been postponed although the aim was to discuss how to re-establish dialogue with Ankara.
Brok and Piri decided to postpone the visit that would have followed the arrest of Kurdish opposition deputies and a crackdown against critical media "due to differences on the format of the meetings," according to the official statement. However, on Wednesday there was a report on Vocal Europe that Dutch deputy and Turkey rapporteur Piri would be prevented by the government from entering Turkey.
Relations between Turkey and the EU have been tense as neither party shies away from making publicly critical statements about the other.
Following the release of a recent EP report, Piri suggested that the EU immediately freeze accession talks until the Turkish government returns to the path of respect for the rule of law and human rights.
Piri, who had already urged the suspension of talks after the arrest of pro-Kurdish Peoples' Democratic Party (HDP) deputies, said that in the face of severe violations of freedom of expression and a massive purge that has resulted in the dismissal of more than 100,000 people, it is clear that Turkey has been moving away from the EU.