What appears to be racist graffiti was found scrawled on the courtyard wall of an Armenian school in İstanbul on Monday, the first day of the new school year in Turkey, the Diken news website has reported.
Murad Mıhçı, central executive board member of the pro-Kurdish Peoples' Democratic Party (HDP), shared photos of the graffiti from his Twitter account on Monday. The graffiti written on the wall of the Kalfayan Armenian Primary School in Üsküdar reads, "May the Turkish race live."
The school was founded in 1866 by Srpuhi and Nshan Kalfayan.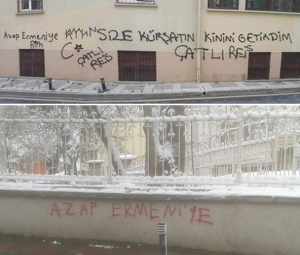 More anti-Armenian graffiti which reads "Suffering to Armenians," was painted on the wall of the Kalfayan school on the ninth anniversary of the murder of Turkish Armenian journalist Hrant Dink in January.
A similar message was also written on the wall of Surp Haç Ermeni High School in the Bağlarbaşı neighborhood of İstanbul last August. "Suffering to Armenians. I brought Kürşat's hatred to you," the message read.