An İstanbul court has ruled to release six of 36 defendants who are standing trial due to their connection to a terrorist attack in İstanbul last year that left six people dead, Turkish media outlets reported.
Ninety-nine people were also injured on Nov. 13, 2022 when an explosion rocked İstiklal Avenue, a busy pedestrian street that runs through İstanbul's central district of Beyoğlu.
The İstanbul 13th High Criminal Court in May 2023 began to hear the trial of 36 defendants, 24 of whom have been in pretrial detention, involved in the attack, including a Syrian woman named Ahlam Albashir, the suspected perpetrator of a deadly explosion.
The fifth hearing in the trial was held on Monday, when the court ruled for the release of defendants Mahmud Haso, Hadice Alkurdia, Salih Carkes, Hadir Carkes, Yasir Al Korali and Ahmed Elşeybun.
The defendants who have been released reportedly hosted Albashir at their home prior to the attack and took her to Taksim on the day of the explosion.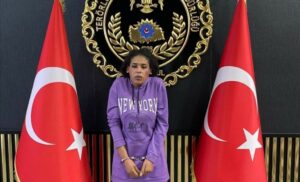 Prosecutors are seeking seven aggravated life sentences and up to 3,009 years in prison for Albashir, who remains behind bars.
The trial was adjourned until Jan. 22, 2024.
The Turkish government says Albashir is a Syrian national trained by the outlawed Kurdistan Workers' Party (PKK), which is listed as a terrorist group by Ankara and much of the international community and has waged a deadly insurgency for Kurdish self-rule in southeastern Turkey since the 1980s.
However, surprising observers, the PKK and Syrian Kurdish militant group the Peoples' Protection Units (YPG) have denied any role, raising questions on social media and elsewhere about the official line.
Kurdish Syrian Democratic Union Party (PYD) Co-chair Salih Muslim claimed in an interview with Fırat News Agency (ANF) in November 2022 that Albashir had links to the Turkish-backed Free Syrian Army (FSA).