Turkey ranks among the top five countries experiencing high food inflation, according to the latest Food Security Update from the World Bank.
The report, released on Monday, places Turkey alongside Venezuela, Lebanon, Argentina and Egypt as nations where domestic food price inflation remains significantly high.
Turkey has a nominal food inflation rate of 76 percent, according to the most recent data. When adjusted for overall inflation, the real food inflation rate stands at 14 percent. Turkey still remains in the top five of the list when adjusted for overall inflation, along with Egypt, Lebanon, Rwanda and Argentina.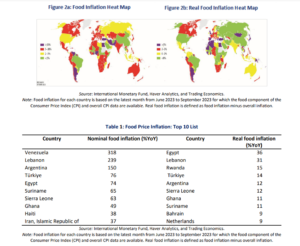 The food price inflation has exceeded overall inflation in 77 percent of 170 countries studied.
According to The Economist's Global Food Security Index 2022, food purchasing power in Turkey decreased by 16 points between 2012 and 2022.
The rise in food inflation is part of a larger economic crisis affecting Turkey, marked by high inflation and unemployment. President Recep Tayyip Erdoğan faces criticism for economic mismanagement and the suppression of dissent, including the jailing of opponents on politically motivated charges.