Lawyers for a Kurdish politician who has been jailed for seven years have called on Turkish judicial authorities to release her as she has spent the maximum amount of time behind bars without a conviction upheld by an appeals court, the Bianet news website reported.
Gültan Kışanak, who has been behind bars on terrorism-related charges since October 2016, was sentenced to 14 years in prison in 2019, a conviction that has yet to be upheld by the Supreme Court of Appeals. She also has ongoing trials before two separate courts.
As her incarceration has recently reached the seven-year threshold for detention without a conviction upheld by an appeals court as stipulated by law, her lawyers petitioned the Constitutional Court last week for her release from prison in accordance with the law.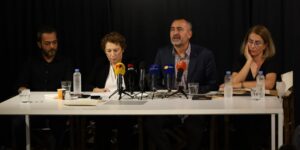 Kışanak's lawyers held a news conference in İstanbul's Beyoğlu neighborhood on Monday where they accused the judicial authorities of keeping Kışanak in jail out of political motivation and disregarding the law.
Lawyer Gül Altay, who spoke for all the lawyers involved, said although they had petitioned the top court demanding Kışanak's release because her incarceration had reached the seven-year threshold on Oct. 25, the day when she was detained seven years ago, the top court has not responded.
According to the lawyers, Kışanak's arrest and trial as well her prison sentence were all unfair, unlawful and based on political motivations.
Kışanak was the co-mayor of the predominantly Kurdish province of Diyarbakır when she was arrested in October 2016 on charges of membership in a terrorist organization, the outlawed Kurdistan Workers' Party (PKK).
The PKK, listed as terrorist organization by Turkey and much of the international community, has been waging a bloody campaign in Turkey's southeast since 1984.
Dozens of Kurdish politicians in Turkey are accused of links to the PKK, although the party strongly denies any ties.
A government crackdown on Kurdish parties and politicians in Turkey reached new heights following a failed coup in July 2016.
Dozens of democratically elected Kurdish mayors were removed from office, while a large number of Kurdish politicians, including former party executives, were jailed following the coup attempt.