Ayşe Şule, Washington, D.C.
Turkey is among the world's worst offenders when it comes to imprisoning journalists. According to Expression Interrupted!, which keeps track of the number of jailed journalists in Turkey, 45 journalists are currently behind bars in the country.
Since a coup attempt in July 2016, many journalists have been left unemployed, faced constant legal harassment or have had to flee the country fearing unlawful arrest, all due to their journalistic activities.
Turkish President Recep Tayyip Erdoğan has gained control of more than 85 percent of Turkey's national media, with the remainder facing pressure through agencies such as the Radio and Television Supreme Council (RTÜK), making it very difficult for the public to access reliable news.
RTÜK was founded in 1994 to regulate privately owned broadcasting but has become a means of censorship impacting free speech.
In 2022 RTÜK "imposed no fewer than 603 fines on radio and TV outlets" as well as halting the broadcast of 217 programs, according to Bianet, a news website and partner of Reporters Without Borders' (RSF) in Turkey.
In recent years journalists living in exile have become the primary source of news for many people, continuing their journalistic activities on social media platforms, where many of them attract millions of viewers.
Adem Yavuz Arslan is one of these journalists in exile, in the United States, having won numerous awards for his work as well as publishing four books.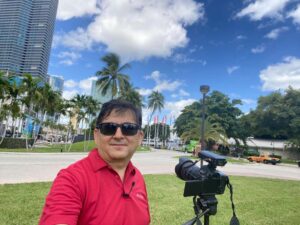 The media organization Arslan worked for, the Bugün daily, was seized by the Turkish government in October 2015 and shut down in February 2016 due to its alleged links to the Gülen movement, a faith-based group inspired by the views of Islamic scholar Fethullah Gülen.
The movement is accused by the Turkish government of masterminding a major corruption investigation in Turkey that became public in December 2013 as well as a military coup attempt on July 15, 2016. The movement strongly denies having any role in either incident.
Arslan is being tried in absentia in Turkey, with prosecutors seeking a life sentence due to his books and newspaper articles.
His passport has been revoked, and a Red Notice was issued for him by INTERPOL upon Turkey's request, and as a result, he is unable to travel internationally.
Yet Arslan is able to reach hundreds of thousands of people through his YouTube channel and X, formerly known as Twitter, account.
The veteran journalist talked to Turkish Minute for an exclusive interview about how Erdoğan took the Turkish media under his control, various methods of censorship implemented by the Turkish government and how journalists in exile make it possible for Turks to access news.
"Today, the entire Turkish media is in Erdoğan's grip," Arslan said, pointing out that the small number of so-called independent or anti-government media outlets can only criticize the government within the boundaries set by Erdoğan.
Years of reform
Arslan said Erdoğan promised to make Turkey a democratic country in line with European standards when his party first came to power in 2002 and that Turkey witnessed significant steps for democratization under his rule until 2010.
"… he actually had written a success story between 2002 and 2010," Arslan said, adding that "with the September 12, 2010 referendum, we saw that Erdoğan's concern was not to raise Turkey's democratic standards but to establish his own authoritarian regime."
The Turkish people backed a government-sponsored package of constitutional amendments in a referendum held in September 2010. The reforms introduced modifications to Turkey's current constitution, making the military more accountable to civilian courts and giving parliament more power to appoint judges. The changes also relaxed restrictions on strikes and granted civil servants the right to conclude collective bargaining agreements as well as lifting immunity from prosecution for the leaders of the bloody 1980 military takeover.
Various methods used to silence media
When establishing an authoritarian regime, Erdoğan's first and most significant steps were related to the media, according to Arslan.
"As Erdoğan filled the Turkish bureaucracy with his cronies, he also began to seize control of the media," Arslan said, as he talked about various methods Erdoğan used to establish a pro-government media.
These methods involved using public institutions such as the Savings Deposit Insurance Fund (TMSF) through which he took ownership of media outlets that did not toe the line.
Media organizations that were affiliated with companies which were seized by the courts due to alleged irregularities in their financial structures or transactions were also transferred directly to the TMSF, and hence under Erdoğan's control, Arslan explained.
For instance the Bugün daily was owned by Koza-İpek Holding, which was seized by the TMSF in October 2015 over its links to the Gülen movement.
Arslan said Erdoğan "seized some media groups using the public power at his disposal. Then he had public banks under his control giving loans worth of millions of dollars to pro-government businessmen."
Another method used by the Turkish government to silence critical media in Turkey mentioned by Arslan was through levying heavy tax penalties, imposing broadcasting bans through RTÜK on these media outlets or cutting their advertising revenues.
This method was used to take over the Doğan Media Group, once the largest media group in the country, with the Finance Ministry's tax authority fining companies controlled by the Doğan group around $2.5 billion in penalties and unpaid taxes in 2009. The record tax fine was seen at the time as politically motivated and raised media freedom concerns in the country.
The Doğan Media Group was sold to the pro-government Demirören Group in 2018.
Yet another method involved filing false terrorism charges against the executives of some media organizations that couldn't be purchased or seized by legal means. This was done using the judiciary, through which the country's largest independent media organizations – the Ipek Media Group, Zaman newspaper, Samanyolu TV station and others — came under Erdoğan's control.
"While subjugating opposition media institutions through legal action, public institutions or direct pressure, he also created his own pro-government media," Arslan said.
The judiciary was also used to unlawfully arrest dissident journalists, which had an impact on media figures who had to unwillingly self-censor themselves, said Arslan.
Reporters Without Borders also refers to "all-out harassment and jailing of independent journalists," "increased control over the state media" and "a system of subsidies for media outlets that support the president."
According to Arslan, another method involved the establishment of troll armies on social media with the support of Russian President Vladimir Putin, a close ally of Erdoğan. Dissidents were targeted by these troll armies.
"In summary, as Erdoğan grew stronger politically, he built a media loyal to him at the same time," Arslan said.
Limited opposition
Even so-called pro-opposition media is not entirely independent. According to Arslan, the pro-opposition media's limits expose themselves through repetition of the government's narrative on certain issues. "For example, if the Erdoğan regime identifies a person or group as a 'terrorist,' the so-called opposition media automatically defines the same people and groups as 'terrorists'."
In Turkey traditional media is still influential, and TV is the primary source of information for most people.
"The internet is especially popular among young voters. Since Erdoğan knows this, he imposes widespread online censorship," Arslan said.
Such acts of censorship include access bans on some websites without a court order as well as blocking the accounts of dissident journalists on platforms such as X, according to Arslan.
A new media law, known as the "disinformation law," that was approved by the Turkish Parliament in October 2022 has also "deepened censorship," the journalist said, since it makes possible the imprisonment of reporters and social media users for up to three years for spreading "fake news."
Arslan said all these efforts of the Erdoğan government to silence critical media outlets, take them under his control and censor journalists show the importance of the work of journalists living abroad and their continued reporting.
He said journalists in exile are able to reach millions of people thanks to their independent reporting despite all the efforts by the government to censor them.
Arslan said he thinks that in the near future in Turkey, news that makes headlines will be reported by journalists in exile.
"Because only exiled journalists have the guarantee of not being arrested in the morning."