Turkish security forces have detained 167 people including a journalist on suspicion of membership in the outlawed Kurdistan Workers' Party (PKK) and the Islamic State in Iraq and the Levant (ISIL), local media reported on Friday.
Turkish media reports said, citing the Interior Ministry, that the police detained 75 people with alleged links to the PKK in connection to a recent suicide attack in Ankara as part of an operation conducted in 11 provinces, including İzmir, Kocaeli, Hakkari, Şırnak and Diyarbakır.
A number of politicians and Mezopotamya news agency reporter Ahmet Kanbal were reportedly among the detainees in Friday's operation.
He was detained in his home in Mardin province due to his social media posts and news reports and is accused of disseminating terrorist propoganda.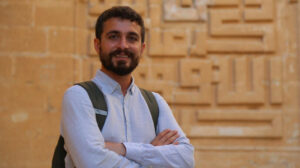 So far, dozens of alleged PKK members have been detained in connection to the attack in Ankara, which left two police officers slightly injured.
The PKK, listed as a terrorist group by Turkey and much of the international community, claimed responsibility for the attack, which took place outside the interior ministry. The PKK has waged an insurgency against the Turkish state since 1984 in a conflict that has claimed tens of thousands of lives.
Meanwhile, Interior Minister Ali Yerlikaya also announced on X, formerly known as Twitter, that 92 people had been detained over their alleged links to ISIL as part of an operation conducted simultaneously in 26 provinces.
DEAŞ'E YÖNELİK 2️⃣6️⃣ İLDE EŞ ZAMANLI OLARAK DÜZENLENEN "KISKAÇ" OPERASYONUNDA 9️⃣2️⃣ ŞÜPHELİ ŞAHIS YAKALANDI❗️

Emniyet Genel Müdürlüğü Terörle Mücadele (TEM) Daire Başkanlığı koordinesinde İl Terörle Mücadele Şube Müdürlüklerimizce Aydın, Tekirdağ, Adana, Ankara, Antalya, Bolu,… pic.twitter.com/ZrYagKwKPt

— Ali Yerlikaya (@AliYerlikaya) October 6, 2023
The operation was conducted in coordination with the Security Directorate General's Counterterrorism Bureau (TEM) in Ankara, Bursa, Diyarbakır, Erzurum, Gaziantep, İstanbul, İzmir, Konya, Manisa, Sakarya, Siirt and Sivas provinces, among others.
Turkey declared ISIL a terrorist organization in 2013 and has been attacked by the jihadist group multiple times since then. A total of 315 people were killed and hundreds more were injured in at least 10 suicide bombings, seven bomb blasts and four armed attacks carried out by ISIL in the country.