When Merve Dizdar won Turkey's first best actress award at the Cannes Film Festival, and the women's volleyball team lifted the European trophy this month, many hearts swelled with pride. But their triumphs also ignited culture wars.
Dizdar, a slight 37-year-old with an ear-to-ear smile, dedicated her win "to all my sisters" dreaming of a better Turkish life.
It was a poignant message delivered on the eve of a May election that veteran President Recep Tayyip Erdoğan won by playing to his Islamic conservative base. It also earned Dizdar a dressing down from Turkey's media regulator.
"The Sultans of the Net," as Turkey's volleyball team is called, relied on an openly lesbian player who occasionally dyes her spiky hair pink, to win the first title for a national sports team in living memory.
But state television refused to interview Ebrar Karakurt, who was pilloried on social media for representing LGBTQ rights.
And thus two moments that could have lifted Turks' spirits during one of their most painful economic crises in decades became subjects of division and hate.
Özer Sencar, founder of the MetroPoll survey agency, said the fissures that divide Turkey — an overwhelmingly Muslim nation formed from the Ottoman Empire's ashes by a fiercely secular field marshal a century ago — appear to be growing worse.
"Polarization in society has reached such a magnitude that everyone finds a pretext in everything to fight, with art and sports being no exception," Sencar told AFP.
Doğan Gürpınar, a historian at İstanbul Technical University, said Erdoğan's defeated political opponents could start using culture and sports more to speak out against his rule, which was marred by purges that followed a failed 2016 military coup.
"[Secular] quarters are embracing culture and sports more after their election defeat," Gürpınar said.
'Beautiful days'
In "About Dry Grasses," directed by Turkey's 2014 Palme D'Or winner Nuri Bilge Ceylan, Dizdar plays a former activist who is trying to rebuild her life after losing a leg in a bombing.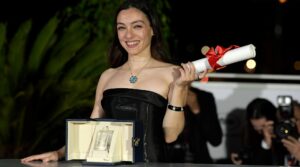 Dizdar looked briefly confused after her name was read out at the Cannes awards ceremony, wondering if she might have misheard.
Then, reading from a prepared script in a trembling voice, she denounced the position Turkish women now find themselves in after Erdoğan's two decades in power.
"I dedicate this award to all my sisters, who never give up hope no matter what, and to all the fighting spirits waiting for the beautiful days they deserve in Turkey," she said.
Secular opposition leader Kemal Kılıçdaroğlu, who ended up losing to Erdoğan in a runoff presidential ballot the following day, seized on Dizdar's words.
"Today, together, we will gift democracy to 'all the fighting spirits waiting for the beautiful days they deserve in Turkey'," Kılıçdaroğlu said.
But she was lambasted in pro-government media, which now dominate Turkey's political landscape.
"You will learn to respect your own country, Merve Dizdar," İbrahim Uslu, the vice president of the RTÜK media watchdog, warned.
'I embrace everyone'
The volleyball team, its players dancing under the banner of Turkey's secular founder after their final win, drew as much social media scorn as Dizdar — none more so than Karakurt.
One of Turkey's only openly gay athletes, Karakurt watched the phrase "lezbiyen istemiyoruz" (we don't want lesbians) start trending on social networks.
Turkey's state run TRT television pointedly avoided interviewing Karakurt during its live broadcast of the team's celebrations.
Religious clerics urged the faithful not to support the team, words that echoed Erdoğan's own repudiation of LGBTQ rights during his re-election campaign.
Erdoğan wound up congratulating the players, adding that Turks should not turn "culture, arts and sports… into tools of division."
But the tone he set during the May campaign opened the door wide open for conservatives to harass Karakurt, who responded with a message of love.
"This is how I embrace everyone," the star posted online, sharing a picture of her facing fans with open arms.
'Primary school bullying'
The historian Gürpınar said the volleyball team shattered the perception among conservatives that sports were reserved for men.
The team "succinctly merged women's power and liberation with national pride," Gürpınar said.
"This seriously hurts the feelings of the conservative, patriarchal segments" of society, the pollster Sencar agreed.
Karakurt also showed how LGBTQ people no longer felt intimidated despite the hate, said Yıldız Tar, of the Kaos Gay and Lesbian Cultural Research and Solidarity Association.
"They stand tall, not embarrassed in the face of the primary school level bullying," Tar told AFP.
"And this further annoys those circles."
© Agence France-Presse