A Turkish photographer and a model were detained after prosecutors launched an investigation into them due to their shooting of some photos at an Ankara mosque that are considered an insult to religious values, the T24 news website reported.
The investigation, launched by the Ankara Chief Public Prosecutor's Office, concerns photos of model Ezgi Cebeci taken by photographer Bilal Gabra Kısa, who is also a director, at the Kocatepe Mosque in Ankara.
A statement from the prosecutor's office said the investigation into Kısa and Cebeci has been launched on charges of "denigrating religious values observed by a segment of society" under Article 216 of the Turkish Penal Code (TCK).
The detentions took place after the director and the model were targeted on social media due to the photos, with some describing them as "inappropriate" and an act of disrespect to Islam due to the model's clothes, which left some of her body exposed.
Muslims or those visiting mosques are expected to wear loose and clean clothes that do not reveal the shape of the body or expose the body. Muslim women typically wear a headscarf as well.
Kısa shared the photos on his Instagram account with an English caption under one of them that read: "This photograph encapsulates the enchantment of contrasts in its purest form. The modern rebellious aura of the white-copped t-shirt harmonizes strikingly with the traditional grace exuded by the intricately embroidered crimson floor-length skirt, resulting in a captivating equilibrium. The white prayer skullcap adorning her hat and the 99-beaded rosary draping her neck create an evocative convergence, symbolizing the embodiment of spirituality and inner tranquility."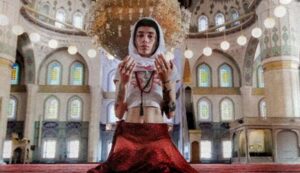 The photographer subsequently deleted the photos following the ensuing outrage. He also released a statement saying that his work has gone beyond his purpose of attracting the people who have distanced themselves from mosques and showing them that they can find peace of mind at a mosque.
Kısa said he is concerned about the angry reactions to his work since people have gone as far as calling him a "traitor" and apologized for the inconvenience.
Under the rule of the Islamic-rooted Justice and Development Party (AKP) in Turkey, it is common for people to face charges of denigrating religious values.
Last year famous Turkish pop singer Sezen Aksu faced legal proceedings due to the lyrics of one of her songs from 2017 on charges of denigrating religious values.
The song, titled "Living Is Something Amazing," included a sentence that says, "Say hi to that ignorant Adam and Eve," which was considered an insult of religious values.