Turkish police have detained 13 content creators from the OnlyFans internet subscription service after public outrage over their tossing dollar bills around central Taksim Square in İstanbul earlier this week, the Serbestiyet news website reported.
The UK-based subscription service is used primarily by sex workers who produce pornography, but it also hosts the work of other content creators, such as physical fitness experts and musicians.
Videos posted on social media showed masked content creators tossing dollar bills along the busy İstiklal pedestrian street in Taksim, with people rushing to collect the bills from the ground.
Onlyfansçılar, İstanbul/Taksim'de dolar dağıttı. pic.twitter.com/oh0bu8Atup

— ibrahim Haskoloğlu (@haskologlu) August 7, 2023
The content creators posted their video with a note saying, "[See what happened] when we wanted to give out dollar bills to people in need in Taksim."
The scenes of people pushing each other to grab the dollar bills has led to public outrage, with many criticizing the content creators for ridiculing people who suffer from financial problems.
Critics also held the Turkish government responsible for the scene due to its poor handling of the economy amid skyrocketing inflation and a constantly increasing cost of living.
Officers from the Beyoğlu police department detained 13 OnlyFans content creators, one of whom was later released. The remaining 12 have been referred to court on allegations of fomenting enmity and hatred among the people under Article 216 of the Turkish Penal Code (TCK) after testifying to a public prosecutor.
ÖZEL HABER /// Taksim'de dolar dağıtan Onlyfansçılar'a operasyon yapıldı.

13 şüpheli gözaltına alındı.

Çok sayıda dolar, maske ve kıyafetler ele geçirildi. pic.twitter.com/YZwirzZvj2

— Pointer (@Pointertr) August 10, 2023
During the operation, police seized masks, clothes and dollar bills in the creators' homes. The dollar bills were fake, according to Serbestiyet.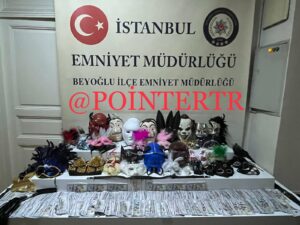 Turks have been suffering from a deteriorating economy for the past several years, with many of them finding it hard to even meet their basic needs for food and housing.
Turkey's annual inflation stood at 47.83 percent in July, according to official data, although a separate study released by independent economists from the Inflation Research Group  (ENAG) who question the official data put the July figure at 122.88 percent, up from 108.6 percent in June.
The Turkish lira has lost around 30 percent of its value since late May.