Ali Dinçer *
A few weeks ago, a crisis shook Russia to its core when the Wagner paramilitary group took over Rostov-on-Don and threatened to march to Moscow. Turkish President Recep Tayyip Erdoğan was first in line to call the Kremlin and express his support for his counterpart, Vladimir Putin, at a time when the outcome of the drama still seemed uncertain.
Many Turkish commentators were quick to resort to drawing parallels with Turkey's failed military coup of July 2016 when a faction within the armed forces attempted to topple Erdoğan. The attempted putsch had taken place at a time when the relations between Ankara and Moscow were still strained due to Turkey's shooting down of a Russian military aircraft in northern Syria, even though Erdoğan had just issued a written apology.
When commenting on news from outside Turkey, we Turks are usually prone to ethnocentrism, which impairs our judgment by making us view the world through the lens of our national dynamics, and that includes even the fiercest critics of Erdoğan. That is why many of us felt compelled to wonder whether the Wagner rebellion was some sort of false-flag operation orchestrated by the Kremlin since the July 2016 coup attempt is often perceived by Turkish dissidents to be a conspiracy plotted by Erdoğan and his regime.
Ask not 'if' they would, but 'why' they would
Politicians are typically never above deceiving the public and the world. For leaders of democracies, it's a question of ingenuity above all else. For autocrats, it's all about motivation.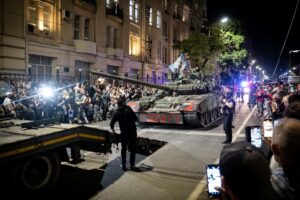 The question of why Putin himself would allow such an internal fault line to become obvious to the whole world at a time when his country is bogged down in a Vietnam-style, miscalculated military nightmare in Ukraine in the face of widespread international hostility is not easy to answer. Whereas in Erdoğan's case, some of his and his ruling elite's statements amount to an explicit admission that July 15th was "necessary."
Erdoğan's boundless vengeance vs. Putin's unsavory compromise
Erdoğan responded to the coup attempt by unleashing a sweeping purge that targeted critics from all walks of life and declaring a state of emergency that for the following two years dismantled any remnants of the already weakened rule of law and judicial independence.
Putin handled the Wagner crisis by declaring amnesty for the fighters, despite the fact that some of them had actually shot down Russian military helicopters, and allowing the leader of the network to run free — for now.
Erdoğan entrenched, Putin weakened
Erdoğan emerged from the incident in July 2016 as an undisputable leader with godlike popularity within large portions of the Turkish population, effectively eradicating the faith-based Gülen movement, which represented the most significant civilian and organized dissent, and emasculating the military, which in Turkey had a long tradition of being a counterweight to civilian politics.
Russia watchers have generally agreed that while the Wagner incident has not brought about the end of Putin's reign over Russia, it has shaken his authority and irreversibly damaged his reputation as the uncontestable leader.
Whether Turkey's July 15th was a real coup d'état or a fake one, what went down in Russia has nothing to do with it. Coups are straightforward, all-or-nothing enterprises. You can't just fail at them and live to tell the story, even less so when the country is literally at war. Yevgeny Prigozhin, the firebrand leader of Wagner, never expressed any intention to overthrow the government. He simply took a gamble to unseat a few bureaucrats, arguably to gain a more prominent position within the regime. The story is not over yet, and it could still cost him his life, but what he attempted was not in any way a coup.
Nevertheless, the insurgency left a visible mark on Putin's image and might perhaps one day be remembered as an early sign of his regime's collapse. Unlike Erdoğan's domestic consolidation of power following the 2016 coup attempt, which allowed him to profile himself more assertively on the international scene, Putin is likely to lose some of his mojo as he has been exposed as not having the same degree of centralized control over the country.
*Ali Dinçer previously worked for the Turkish Ministry of Foreign Affairs.