A columnist for a pro-government daily who was a former aide to President Recep Tayyip Erdoğan has called on Turkish authorities to rekindle their hatred of the faith-based Gülen movement as the seventh anniversary of a coup attempt in the country approaches.
The Turkish government accuses the Gülen movement, inspired by the views of Islamic cleric Fethullah Gülen, of masterminding the failed coup on July 15, 2016, and labels it as a terrorist organization. Gülen and his movement strongly deny any involvement in the failed putsch and any terrorist activity.
Pro-government Yeni Şafak daily columnist Aydın Ünal, previously a speechwriter for Erdoğan as well as a former lawmaker from his ruling Justice and Development Party (AKP), in his column on Monday discussed how Turkey's fight against members of the movement, which he described as the "Fetö" terrorist organization, is going on the seventh anniversary of the coup attempt.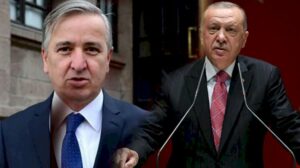 Ünal said although the Gülen movement was dealt a heavy blow in Turkey, with many of its followers jailed, that those still at large are under close scrutiny, that the crackdown on the movement has not yet been completed and that there are big risks in this.
He said a large group of people including the movement's followers and their families has emerged who are against the government either because they lost their jobs or were jailed. He said these people pose a big threat to the government and that they need to be "rehabilitated" if they regret their relations with the movement.
Following the coup attempt, the Turkish government declared a state of emergency and carried out a massive purge of state institutions under the pretext of an anti-coup fight. More than 130,000 public servants were summarily removed from their jobs for alleged membership in or relationships with "terrorist organizations" by emergency decree-laws subject to neither judicial nor parliamentary scrutiny.
In addition to the thousands who were jailed, scores of other Gülen movement followers had to flee Turkey to avoid the government crackdown.
Ünal also talked about those members of the Gülen movement who had left Turkey and settled in Europe or the United States, saying their ongoing activities abroad also pose a threat to Turkey.
"Ending this threat [posed by Gülen members] is urgent for Turkey's security and international relations," Ünal wrote, adding that former intel chief Hakan Fidan's becoming the country's new foreign minister is a big opportunity to take steps against Gülen followers abroad.
Turkey's National Intelligence Organization (MİT), under Fidan's leadership, was already involved in the kidnapping and abduction of many Gülen followers abroad and the torture of others who were the subjects of enforced disappearances in Turkey.
MİT was also allegedly behind pro-government media operations targeting critical journalists in exile whose photos were secretly taken and whose home addresses were revealed, making them potential targets for government fanatics abroad.
Ünal also accused Europe and the United States of using Gülen movement members for their interests against Turkey.
He said since Europe and the United States are using the Gülen movement and the terrorist Kurdistan Workers' Party (PKK) to facilitate their "plans" against Turkey, Turkey has no alternative but to foil those plans.
"So on the seventh anniversary of the July 15 [coup attempt], we need to rekindle our anger, hatred and determination to fight [against the Gülen movement]," Ünal wrote.