Turkey has emerged as the most restrictive country regarding alcohol consumption among 30 European nations, according to the 2023 Nanny State Index, which measures the extent of government regulation of alcohol, nicotine and food.
The Nanny State Index, released by UK-based, right-wing think tank the Institute of Economic Affairs, evaluates countries' consumer freedom by assigning a score out of 100 based on the severity of restrictions and negative impacts in three equally weighted categories — alcohol, nicotine (further divided equally into tobacco and e-cigarettes), and diet — with higher scores indicating more restrictive policies and lower scores denoting greater freedom.
The index divides its 100-point scale into three main categories: alcohol, nicotine, and diet, each holding an equal weight of 33.3 points. Within the nicotine category, tobacco and e-cigarettes are each assigned a weight of 16.7 points, and points are distributed based on a variety of criteria within each category.
With an overall score of 54.2 out of 100, Turkey tops the index, highlighting the significant government control in personal lifestyle choices. The country's high score is particularly influenced by its regulation of alcohol, for which it received a score of 22.7 points, the highest among the nations evaluated, out of 33.3.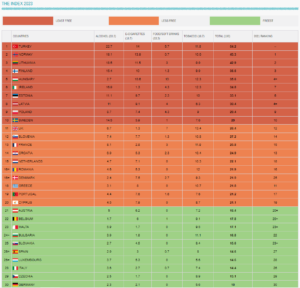 The influence of President Recep Tayyip Erdoğan, known for his rigid stance against alcohol and tobacco consumption, is notable in the strict implementation of regulations on alcohol, tobacco and vaping.
In specific categories, Turkey also ranked first in the e-cigarette category with 14 points out of 16.7. The country ranked third in the food and soft drink category, scoring 5.7 out of 33.3. In the tobacco category, Turkey's score of 11.8 out of 16.7 reflects a high-ranking position, placing sixth among the 30 nations and indicative of rigorous restrictions on the sale and use of tobacco products.
Numerous bans and restrictions on various products are in effect in Turkey. E-cigarettes and heated tobacco products are forbidden, with only snus, a smokeless tobacco product, remaining legal. The country has enforced public smoking bans in workplaces, bars, restaurants and vehicles. Strict regulations on the sale and display of tobacco products, inclusive of plain packaging requirements and a prohibition on cigarette vending machines, have also been enacted.
Turkey has deployed an approach involving high taxation on alcoholic beverages and tobacco products. The government introduced a significant increase in the "Special Consumption Tax" on these items in early 2022, leading to higher prices. These taxes are deemed by many in Turkey as excessively punitive. As most people's incomes are not sufficient to afford alcohol, many turn to bootleg alcohol to indulge. Turkish media reported 84 people died of bootleg alcohol in December 2021 alone, before the prices shot up.
Besides alcohol and tobacco, the sale of energy drinks to individuals under 18 is also limited, and there is a tax on sugary drinks, including those artificially sweetened.
The Nanny State Index report also points to the potential negative impacts of such restrictive policies. Critics argue that these regulations can raise the cost of living, stifle innovation and disproportionately impact economically disadvantaged populations. The report suggests a need for a balance between regulation and personal freedom, advocating a focus on economic growth for improved public health benefits.