A parliamentary candidate for Hatay from the Workers' Party of Turkey (TİP) has filed two complaints against the city's authorities alleging their responsibility for massive devastation in the city caused by major earthquakes in February, the ANKA news agency reported on Tuesday.
A 7.8-magnitude earthquake struck near the city of Gaziantep on Feb. 6 while people were sleeping, killing more than 50,000 people in the 11 southeastern provinces hardest hit by the disaster, according to the latest official figures. The quake was followed by many aftershocks, including a 7.5- magnitude temblor that shook the region later the same day.
The complaints against former Hatay governor Rahmi Doğan and the province's healthcare director Mustafa Hambolat were filed by Can Atalay, a lawyer and one of the jailed defendants in the Gezi case who has been nominated by TİP to run in Hatay, an area hard hit by the powerful earthquakes.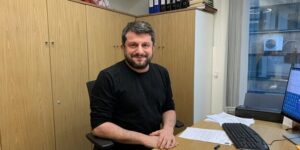 The petitions were submitted on Tuesday by TİP's İstanbul MP Ahmet Şık and Atalay's lawyer, Bülent Akbay, at the İskenderun Courthouse in Hatay.
While one of the petitions requested the arrest of Doğan and Hambolat due to the collapse of İskenderun State Hospital during the earthquake, resulting in at least 76 deaths, the other cited the improper storage of debris from collapsed buildings that could impact human health and agricultural land in the city, according to ANKA.
In a move that attracted harsh criticism, Doğan resigned from office last month to run in parliamentary elections scheduled for May 14. However, the ruling Justice and Development Party (AKP) failed to nominate the former governor, who was widely criticized for his failure to effectively manage rescue and relief efforts following the major earthquakes in February.
Şık spoke in front of the courthouse about the complaints on Tuesday and said Atalay, an employee of the Chamber of Architects who has been "displaying his accumulated knowledge and professional experience as a lawyer resisting urban crimes" for years, is one of the most suitable candidates for Hatay.
Atalay is one of seven defendants sentenced to 18 years and arrested by an İstanbul court in April 2022 in a trial concerning the Gezi Park protests of 2013.
The protests, which erupted over government plans to demolish Gezi Park in Taksim, quickly turned into mass anti-government demonstrations that were violently suppressed by the government, leading to the death of 11 protestors due to the use of disproportionate force by the police.