A Turkish court has ruled for the arrest of a journalist who was detained on Jan. 10, celebrated as Working Journalists Day in Turkey, on charges of membership in a terrorist organization, the the Karşı Mahalle news website reported.
Journalist Sezgin Kartal, who works for Karşı Mahalle, was detained on Tuesday morning following a raid on his house in İstanbul.
Kartal's detention on a day when the work and independence of journalists are celebrated attracted criticism since Turkey has a poor record in terms of freedom of the press.
Karşı Mahalle announced on Friday that Kartal was arrested by an İstanbul court after remaining in custody for three days at the İstanbul Police Department.
It was not clear which terrorist organization's membership Kartal was being accused of as there is a gag order on the investigation. Yet journalists in Turkey, especially those covering issues related to Kurds or working for pro-Kurdish media outlets, are accused of membership in the outlawed Kurdistan Workers' Party (PKK).
The PKK, which has been waging a bloody war in Turkey's southeast since 1984, is listed as a terrorist organization by Turkey and much of the international community.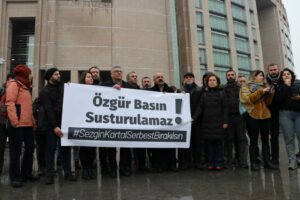 Meanwhile, a protest was staged by Kartal's colleagues and rights activists in front of the İstanbul Courthouse on Friday for the release of the journalist. "Journalism is not a crime" and "Free Sezgin Kartal" read some of the banners carried by the protestors.
Turkey, which is one of the top jailers of journalists in the world, was ranked 149th among 180 countries in the Reporters Without Borders (RSF) 2022 World Press Freedom Index, released in May.