A man has called on Turkish authorities to release his wife, serving a prison sentence on conviction of links to the Gülen movement, so she can be with their son, who is suffering from bone cancer and has a 20 percent chance of survival, according to his doctors, the Euronews Turkish service reported on Thursday.
Gülten Sayın, the mother of 6-year-old Yusuf Kerim, who has late-stage Ewing's sarcoma, was sentenced to more than six years for working at a student dormitory in northwestern Turkey and for depositing money in Bank Asya, both of which were closed by the government due to their alleged links to the movement. She was arrested on Dec. 16 to serve her sentence.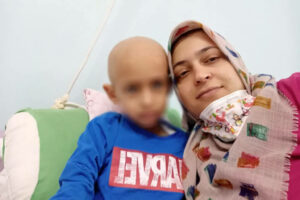 "Cancer has spread throughout his body," father Süleyman Sayın said on Thursday, calling on authorities to release her wife so their son can spend what time he has left with his mother.
The father said Yusuf Kerim, who has been experiencing weakness and severe pain, was constantly asking about his mother, asking to see or talk to her, at least on a video call.
According to Euronews, Yusuf Kerim doesn't know that his mother is behind bars and was told that she was being treated at another hospital.
"We requested a postponement [of the sentence] from the Justice Ministry. … I take care of Yusuf Kerim, but the child needs his mother to keep his morale up. … I appeal to the conscience of the authorities, it is a difficult process for the mother and child," the father said.
Earlier this month, Kemal Kılıçaroğlu, leader of the main opposition Republican People's Party (CHP), said during his party's group meeting that Yusuf Kerim shouldn't be away from his mother.
A number of opposition politicians have visited the child in the hospital and called on authorities to release his mother.
Democratic Peoples' Party (HDP) deputy and human rights defender Ömer Faruk Gergerlioğlu on Thursday demanded during a press conference in parliament that a regulation allowing the postponement of sentences for such inmates as Gülten Sayın be included in the seventh judicial package that is expected to come to the parliamentary agenda in the coming days.
The HDP MP said there were currently 520 children, including infants, accompanying 470 women behind bars, in addition to pregnant women.
Turkish President Recep Tayyip Erdoğan has been targeting followers of the Gülen movement, inspired by Turkish Muslim cleric Fethullah Gülen, since the corruption investigations of December 17-25, 2013, which implicated then-prime minister Erdoğan, his family members and his inner circle.
Dismissing the investigations as a Gülenist coup and conspiracy against his government, Erdoğan designated the movement as a terrorist organization and began to target its members. He intensified the crackdown on the movement following an abortive putsch that he accused Gülen of masterminding. Gülen and the movement strongly deny involvement in the coup attempt or any terrorist activity.