A Kurdish singer who was held in pretrial detention in Turkey for more than a year on terrorism charges has recounted the mistreatment she and some members of the Gülen movement were subjected to in addition to the poor prison conditions they faced, in an interview published by the Kronos news website over the weekend.
Saide İnanç, who is known by the stage name of Hozan Canê, was detained on June 21, 2018 and arrested by a court six days later on charges that included membership in the outlawed Kurdistan Workers' Party (PKK) and insulting Turkish President Recep Tayyip Erdoğan and Atatürk, the founder of modern Turkey.
İnanç said that after she was detained, the police officers made her undress and told her to sign a document, saying she would be released if she did. After she refused, the officers made her wait two hours with her hands cuffed behind her back. They then took her from İstanbul to Edirne early the next day and kept her in a small, dirty cell.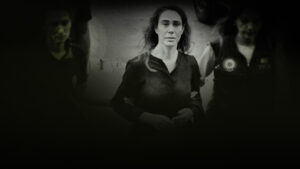 According to the singer, she became ill from food given to her by the counterterrorism police on the second day of her custody. She was taken to a hospital, where her stomach was pumped.
She said, with tears in her eyes, according to Kronos, that when she was transferred to Edirne Prison, she was strip-searched by seven guards. Then, one of the guards searched a body cavity supposedly for heroin.
"One guard grabbed one of my legs, the other held my other leg… Another guard … put her hand in my vagina looking for heroin. I was bleeding," İnanç was quoted as saying.
Because she complained about the conditions of her original cell, the singer was then sent to a ward where nearly 20 inmates, arrested due to their alleged links to the faith-based Gülen movement, were kept, İnanç told Kronos.
Erdoğan has been targeting followers of the Gülen movement, a faith-based group inspired by Turkish cleric Fethullah Gülen, since the corruption investigations of December 17-25, 2013, which implicated then-Prime Minister Erdoğan, his family members and his inner circle.
Dismissing the investigations as a Gülenist coup and conspiracy against his government, Erdoğan designated the movement as a terrorist organization and began to target its members. He intensified the crackdown on the movement following a coup attempt on July 15, 2016 that he accused Gülen of masterminding. Gülen and the movement strongly deny involvement in the abortive putsch or any terrorist activity.
Kronos said that İnanç initially feared her fellow inmates because the guards told her they were members of a terrorist organization and would kill her in addition to making her sign a document saying it was not not their responsibility if she were to be murdered by them.
"Then she [an inmate], Emine, came and took my hand. 'I think you are very afraid [of us]," she said. … 'Don't be afraid, sister. They're lying. We are not terrorists, you are not a terrorist, it is terrorists that are doing this to us,' she said. I was relieved when she said that," İnanç said, adding that her fellow inmates also took care of her.
Regarding the conditions of the prison, İnanç said that they weren't given enough to eat, the ventilation was inadequate and the bathrooms were filthy, with water for bathing provided once a week for only half an hour.
The singer further told Kronos that what affected her the most psychologically in prison was seeing the poor condition of a 15-day-old baby who was being taken care of without baby formula, diapers or cream to treat rashes.
İnanç, who is a dual German-Turkish citizen, was transferred to Bakırköy Prison in İstanbul, where she stayed for over a year, through the efforts of the German embassy after spending more than a month in Edirne Prison.
The second traumatic incident İnanç experienced, after seeing a 15-day-old baby accompanying its mother in prison, was being kept in isolation a month or so before her release from Bakırköy Prison, Kronos said.
"What's most dangerous for Turkey right now is the monstrous regime of Erdoğan," the singer was quoted as saying.
The ruling Justice and Development Party (AKP) increased its crackdown on Kurds, especially after the collapse of Ankara's reconciliation process with the outlawed PKK in 2015.