Giving the first signals about his potential candidacy for the presidency, İstanbul Mayor Ekrem İmamoğlu said he is among the potential candidates for country's top job and thinks the opposition bloc should select someone who will definitely win against President Recep Tayyip Erdoğan, the Haber Türk news website reported.
İmamoğlu, from the main opposition Republican People's Party (CHP) and a key opponent of Erdoğan, was last week sentenced to two years, seven months in prison and barred from politics for allegedly insulting members of Turkey's Supreme Election Board (YSK).
The sentence and the political ban must be upheld by an appeals court after a petition is filed.
Journalist Fatih Altaylı from Haber Türk spoke to İmamoğlu about the prison sentence and his potential candidacy for the 2023 presidential election.
When asked whether he sees himself as a rival to Erdoğan, the mayor said: "I don't see myself as a rival on my own. But I'm a player on the team against Erdoğan. The coach puts me in the game, or he doesn't. That's not my decision to make. But I'm player who could possibly enter the game."
The opposition bloc, consisting of six opposition parties including the CHP, has not yet announced their candidate, while Erdoğan has already declared that he will be the presidential candidate of the "Public Alliance," comprising his Justice and Development Party (AKP) and the far-right Nationalist Movement Party (MHP).
İmamoğlu, who has so far remained silent about the prospects of his candidacy, said he wants the opposition bloc to field a presidential candidate who will definitely win.
"The political party leaders will decide," he said.
Earlier, the mayor said on many occasions that CHP leader Kemal Kılıçdaroğlu is the presidential candidate in the hearts of all CHP supporters including himself.
Some people claim the opposition bloc will lose against Erdoğan if they don't field either İstanbul Mayor İmamoğlu or Ankara Mayor Mansur Yavaş and instead choose CHP leader  Kılıçdaroğlu.
Both İmamoğlu and Yavaş ended the yearslong AKP rule in their cities in the local elections of 2019.
Kılıçdaroğlu has also on many occasions said he would run for the presidency if the opposition bloc decides to field him as its candidate.
Meanwhile, Kılıçdaroğlu welcomed İmamoğlu to the CHP parliamentary group meeting in Ankara on Tuesday. He said not everyone knows it but there is a special relationship between him and İmamoğlu.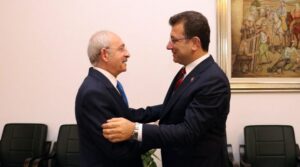 "İmamoğlu and I have a kind of father-son relationship. He is [like] my son as much he is a son of the CHP," Kılıçdaroğlu said, telling the government to keep its hands off the mayor.
Erdoğan, whose party has been ruling Turkey as a single-party government since 2002, is facing one of his toughest elections due to the economic deterioration in the country, with inflation standing at more than 84 percent in November.