Turkey's main opposition Republican People's Party (CHP) leader Kemal Kılıçdaroğlu unveiled his party's new economic program over the weekend, introducing members of the CHP economy team, a group of 70 experts that he calls the party's "brain team above the politics," according to a report by BBC Turkish service.
As Turkey has been battling one of its worst economic crises in years, Kılıçdaroğlu on Dec. 3 declared his party's new vision for Turkey's economic recovery, with a new program titled  "A call for the Second Century," in reference to the beginning of the second centennial of the Turkish Republic in 2023.
"You will meet with our 'above-politics' brain team today. We are talking about 70 renowned people from Turkey and around the world," Kılıçdaroğlu said during the event at which American economist Jeremy Rifkin, Turkish-American economist Daron Acemoğlu, former chief economist of the Turkish Central Bank Hakan Kara, Professor Refet Gürkaynak from Bilkent University and Turkish economist Ufuk Akçiğit also made short speeches.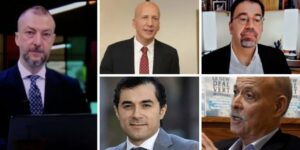 The CHP leader introduced Rifkin, who focuses on the effects of changes in science and technology on the economy, workforce, society and the environment, as his "new chief advisor for industrial transformation."
According to BBC, Rifkin, president of the Foundation on Economic Trends (FOET), argues in what he conceptualizes as the third industrial revolution, that a transition to an economic model based on renewable energy should be undertaken in the near future.
Also the president of the TIR Consulting Group, which provides consultancy services to companies around the world, Rifkin has advised former French President Nicolas Sarkozy, former German Chancellor Angela Merkel, former Portuguese Prime Minister Jose Socrates and former Slovenian Prime Minister Janez Janša on economics, climate change and energy security.
Acemoğlu, on the other hand, is a Turkish-born American economist who has taught at the Massachusetts Institute of Technology (MIT), where he is currently the Elizabeth and James Killian Professor of Economics, since 1993, BBC said, adding that his work focuses on political economy.
He received an award in the field of social sciences at the 2013 Presidential Culture and Arts Grand Awards.
BBC further said Professor Dr. Kara, who had long worked as chief economist at the Turkish Central Bank and is currently an academic at Bilkent University's department of economics, attended the event via video conference and made a presentation.
Kara played a leading role in the analysis, design, and implementation of monetary and macroprudential policies in Turkey between 2003 and 2019 and has published regularly in peer-reviewed academic journals, focusing on the changing dynamics of the Turkish economy and monetary-macroprudential interactions as well as the use of different policy instruments to cope with volatile capital flows.
Gürkaynak, an academic who works in the same department as Kara, focuses on monetary policy, financial markets and macroeconomics, according to BBC.
Having consulted the International Monetary Fund (IMF), the European Central Bank and the Central Bank of the Republic of Turkey among other institutions in past years, Gürkaynak currently shares his comments on economic developments in Turkey on his YouTube channel.
The BBC also said Akçiğit, a macro-economist whose research focuses on economic growth, production efficiency, competition, privatization, industrial policies, firm dynamics, human capital and the economics of innovation, mainly spoke about industry and employment during Saturday's event.
Among the institutions that Akçigit has provided project consultancy for are the Federal Reserve Bank of Chicago, the Danish Ministry of Higher Education and Science, the World Bank, the IMF, the Organization for Economic Cooperation and Development (OECD) and the Central Bank of Turkey, according to BBC.
Kılıçdaroğlu's new economic program comes at a time when Turkey's economy is suffering its biggest economic crisis in decades ahead of one of the toughest elections of President Recep Tayyip Erdoğan's rule, which is slated for June of next year.
Official data on Monday showed Turkey's inflation standing at 84.39 percent in November while a study by a group of independent academics, the ENAG group, showed the annual rate of consumer price increases reaching 170.70 percent in November.