Swedish-Kurdish writer, journalist and social commentator Kurdo Baksi has said that it should be Bülent Keneş, a Turkish journalist living in exile in Sweden, who represents Turkey at the Nobel Banquet scheduled for December instead of Turkey's ambassador to Sweden, the TR724 news website reported on Monday.
NATO member Turkey is threatening to freeze Sweden and Finland's attempts to join NATO unless they extradite dozens of people Ankara accuses of "terrorism" including Keneş, an academic and the former editor-in-chief of the now-closed English-language Today's Zaman daily and also an outspoken critic of President Recep Tayyip Erdoğan's government.
TR724 provided a Turkish translation of Baksi's column, which was published in the Swedish Svenska Dagbladet newspaper on Monday.
According to the news report, Baksi said it "pains" him that Yönet Can Tezel, the Turkish ambassador to Sweden, will be present at this year's Nobel Banquet, an annual affair held on Dec. 10 in the Blue Hall of Stockholm City Hall, after the Nobel Prize ceremony.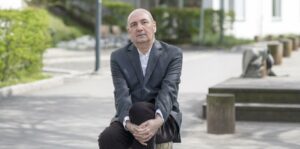 "Ambassadors who do not respect basic human rights and freedoms, democracy, freedom of expression or the inherent equal value of all people have no place at the Nobel Banquet. For a fairer world, Turkey must be represented by Bülent Keneş, a defender and a fighter for freedom of expression!" Baksi said.
The journalist argued that no one was more afraid of journalists than Erdoğan since he wouldn't brand Keneş as a terrorist and demand his extradition to Turkey from Sweden, where he lives as a refugee, if this wasn't the case.
He said he felt "desperate" when he heard that Erdoğan named Keneş, one of the most sincere people he has ever met, as a terrorist and said it worried him that Erdoğan could openly oppose freedom of expression in Sweden and dared to interfere in its internal affairs.
Baksi said his country has failed to support or protect Keneş when the Swedish Supreme Court is expected to rule on his extradition before the end of the year, underlining that it was "astonishing" that neither Minister of Foreign Affairs Tobias Billström nor Minister of Culture Parisa Liljestrand took any action regarding Erdoğan's move against Keneş.
A non-binding deal Sweden and fellow NATO aspirant Finland signed with Turkey in June commits them to "expeditiously and thoroughly" examine Ankara's requests for suspects linked to the Gülen movement and the outlawed Kurdistan Workers' Party (PKK), which is recognized as a terrorist organization by Turkey and much of the international community.
Keneş is accused by the Turkish government of links to the Gülen movement, labeled by the Turkish government as the mastermind of a failed coup in 2016 and a "terrorist organization." The movement strongly denies any involvement in the failed putsch or terrorist activity.
Today's Zaman, a sister newspaper to Turkey's best-selling newspaper Zaman, was closed down by the government in the aftermath of the coup attempt in addition to dozens of other media organizations due to their links to the movement.
Both Swedish and Finnish government officials said they will continue to respect national and international laws regarding Turkey's extradition requests and that the decision for extraditions will be up to independent authorities and the courts.
Keneş was also targeted last month by the pro-government Sabah daily, which revealed his home address and secretly taken photos in Stockholm.
The journalist left Turkey in the aftermath of the coup attempt to avoid a government-led post-coup crackdown targeting critical journalists as well as non-loyalist citizens.