The International Journalists Association e.V. (IJA), founded in Germany by media professionals who were forced to flee Turkey due to government pressure and now live in exile, hosted talks with journalists and human rights activists about the war in Ukraine, Turkey's crackdown on freedom of expression and the fight for democracy around the world at its exhibition at the 74th Frankfurt Book Fair, the largest of its kind in the world.
Numerous national and international publishing houses presented their new titles at the Frankfurt Book Fair, which hosted more than 2,000 events between Oct. 18 and 23.
Organizing events with media professionals, opposition figures in exile and human rights activists under the banner "Free Media for Real Democracy," the IJA exhibition started on Wednesday with a discussion between Volodymyr Bober, editor-in-chief of the Ukrainian Poglyad newspaper, and the previously Ukrainian-based Turkish editor of the ukraynahaber.com news website, Yunus Erdoğdu, who talked about the safety of journalists affected by the Russian-Ukrainian war.
The journalists have lived in Ukraine for many years and witnessed the crisis. Bober continues to reside in the western Ukrainian city of Chernivtsi, where he is also president of the National Society of Journalists of Ukraine (NSJU). Erdoğdu is now living in exile in Switzerland.
On Thursday exiled journalist Erkam Tufan Aytav discussed "Media, democracy and the economics of free speech," with prominent Turkish academics Prof. Dr. Eser Karakaş and Prof. Dr. Vedat Demir.
On Friday journalist İrfan Galip Dumlu hosted writer Kazım Gündoğan to talk about the processes of "marginalization" in Turkey and how minorities and the lower classes are bearing the brunt of it.
Journalist Post Chief Editor Yüksel Durgut on Saturday hosted Ukrainian journalist Sevgil Musayeva, editor-in-chief of the largest news portal in Ukraine (Ukrayinska Pravda), who was named one of the 100 most influential people by Time magazine in 2022.
Addressing the role of the media and journalists in the Russian-Ukrainian war, Musayeva said that Ukraine is waging "a war for democracy and the future of the free world."
"Unfortunately, Russian propaganda is still valuable for many Russians," Musayeva said and added, "Thanks to journalists, the world saw the truth about the war and hundreds of civilians killed."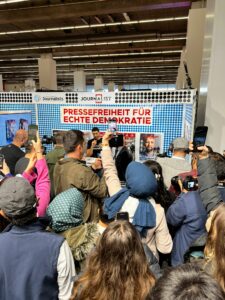 Enes Kanter Freedom, an activist and basketball player who was dropped from the NBA reportedly for speaking out against human rights abuses worldwide and who received the 2022 Courage Award at the 14th Annual Geneva Summit for Human Rights and Democracy, was also present in the IJA exhibition area and joined Durgut's talk with Musayeva toward its end.
Freedom, who has lived mainly in the United States for more than a decade, has used his substantial platform as an international star athlete to condemn Turkey's pivot towards authoritarianism under Turkish President Recep Tayyip Erdoğan over the past few years.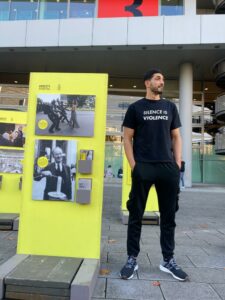 Turkish prosecutors are seeking a four-year prison sentence for his alleged membership in the Gülen movement, a religious group inspired by Turkish cleric Fethullah Gülen.
Freedom called on world leaders not only to condemn Russia's actions in Ukraine but to take concrete action.
On Sunday Cevheri Güven, a prominent investigative journalist living in Germany, spoke about the challenges and consequences of journalistic work in exile and the current political landscape in Turkey.
Güven stressed that the opposition must leave "the comfort zone" set by the government of President Erdoğan and challenge its nationalist discourse if it is to succeed in coming to power in the 2023 elections.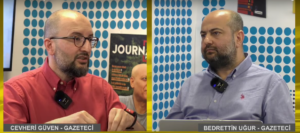 Güven has made scandalous revelations about President Erdoğan and his close circle as well as some journalists and opposition figures in his YouTube videos. He recently came under the spotlight after the pro-government Sabah daily, on its Sept. 22 front page, published secretly taken photos of him while walking on the street and revealed his home neighborhood in a German city.
Güven told Turkish Minute at the time he believed Turkey's National Intelligence Organization (MİT) was behind the search for him and that it was due to one of his videos in early September in which he questioned MİT's role in a failed coup in Turkey in July 2016, following which Erdoğan's government launched a massive crackdown on outspoken journalists and non-loyalist citizens under the pretext of an anti-coup fight.
Purge Museum, an initiative that collects and exhibits items belonging to individuals who survived Turkey's massive crackdown on the Gülen movement, also opened for a four-day run adjacent to the IJA's exhibition area at the book fair.
Since a failed coup attempt in 2016 for which Erdoğan blamed Fethullah Gülen, an Islamic cleric living in the US and the inspiration of the movement, being a Gülen follower in Turkey has become unbearable.
Purge Museum, "Tenkil Müzesi" in Turkish, was launched months ago in Germany by a group of refugees who fled Turkey after the coup and have been collecting objects from victims ever since.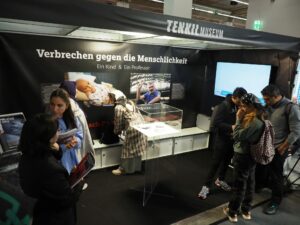 Among the items on display are the broken eyeglasses of Gökhan Açıkkollu, who died in detention after the coup from the torture and ill treatment he was subjected to; several items of clothing that were damaged during rough interrogations; baby clothes that were worn in Turkish prisons; and a number of articles that were used during the dangerous trip from Turkey to Greece across the Evros River.
Overall the objects depict the horror and cruelty of detention and restrictions and a longing for loved ones in prison, the dangers of fleeing Turkey, and new beginnings in a strange country.