Turkey's top judicial council has disbarred a public prosecutor who was previously arrested as part of a case involving accusations of espionage and kidnapping on behalf of Iranian intelligence, according to Turkish media.
One of 16 defendants in a case heard by the İstanbul 23rd High Criminal Court who allegedly helped Iranian intelligence kidnap Iranian dissidents in Turkey, prosecutor Davut Yılmaz was temporarily suspended on Feb. 8 by the Council of Judges and Prosecutors (HSK).
Yılmaz currently faces up to 32 years in prison on charges of "establishing a criminal organization," "abuse of official position or authority" and "illegal deprivation of liberty."
Journalist Timur Soykan previously said on Halk TV, citing the indictment against Yılmaz, that when agents from Turkey's National Intelligence Organization (MİT) followed a group of people they found to have kidnapped Iranian dissidents, they discovered that Yılmaz was meeting with Iranian agents in his office at İstanbul's Anadolu Courthouse and was given a list of people targeted for abduction.
Soykan added that Yılmaz was part of a network that also included Turkish businessman İhsan Sağlam and at least two former police officers, all of whom are currently behind bars.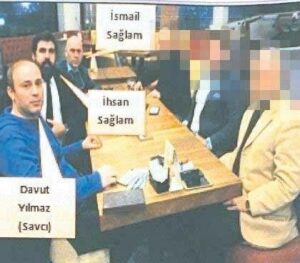 The second chamber of the HSK, which convened on Thursday, ruled to disbar the public prosecutor.
The move comes a month after public prosecutor Osman Yarbaş, who had been arrested in July on drug-trafficking charges, was also disbarred by the HSK.
After a 2016 coup attempt, Turkish President Recep Tayyip Erdoğan's government dismissed 4,156 judges and prosecutors, nearly a third of the total number at the time, which was followed by the mass recruitment of replacements.
Yarbaş was hired as a prosecutor in 2017, after the post-coup purge targeting the judiciary resulted in a shortage of staff.
According to a report by Italian judge Luca Perilli, as of December 2019, at least 45 percent of Turkey's roughly 21,000 judges and prosecutors had three years of experience or less.
Hakkı Köylü, a lawmaker from Erdoğan's Justice and Development Party (AKP), acknowledged to Reuters in 2020 that some judges and prosecutors "have been appointed without adequate training."
Critics accuse Erdoğan of recruiting pro-AKP lawyers as judges and prosecutors. On top of that, the mass disbarment of members of the judiciary is believed by many to have had a chilling effect on the entire justice system, intimidating the remaining judges and prosecutors into doing the government's bidding by launching politically motivated investigations into critics.