Footage taken from the Bosporus strait on Saturday showed that the top of Leander's Tower had disappeared, leading to claims that a botched attempt to restore the building had destroyed the historic landmark, Turkish media reported.
Leander's Tower, also known as the Maiden's Tower (Kız Kulesi in Turkish), is a structure on an islet at the southern entrance of the Bosporus, 200 meters from the coast of Üsküdar in İstanbul. Although the first structure on the island dates back to the fifth century BC, the current building was not erected until Byzantine Emperor Alexius Comnenus built a wooden tower with stone walls in 1110.
The Ottoman Turks used it as a watchtower under Mehmed the Conqueror, and it was restored and renovated several times due to damage by earthquakes and fires.
Kültür ve Turizm Bakanlığı tarafından restore edilmek üzere kapatılan #KızKulesi'nin yeni çekilen görüntülerinde, kulenin varlığı tartışma konusu oldu.
Görüntülerde kulenin arkasından geçen bir vapur, kulenin önünden de görülebiliyor. pic.twitter.com/eNd7zEx7xQ

— Medyanın51Tonu (@medyanin51tonu) September 3, 2022
On Saturday, a video circulated on social media showing a ferry passing behind the scaffolding curtain erected to restore the tower, leading to claims that it had been demolished since no structure appeared to block the view.
Looks like the historical Maiden's Tower in Istanbul has been at least partially dismantled behind a translucent scaffold cover https://t.co/DsouPTjOmg

— Ankaralı Jan (@06JAnk) September 3, 2022
Turks flooded social media with tens of thousands of angry comments posted on Twitter with the hashtag #KızKulesi.
There seems to be nothing left of Kız Kulesi (Maiden's Tower) beneath the cloth covering "renovation" works #KızKulesiNerede pic.twitter.com/ssfqKKPj3g

— sao (@biesmi34) September 4, 2022
Turkey's General Directorate of Cultural Heritage and Museums has denied the allegations, saying the historic structure will be restored as planned and will serve as a museum next year.
Turkey's well-respected Teyit fact-checking platform has found the claims of destruction to be false and stated that restoration is proceeding as announced.
In 1943-1944, the wooden parts of the Maiden's Tower were dismantled and rebuilt with concrete.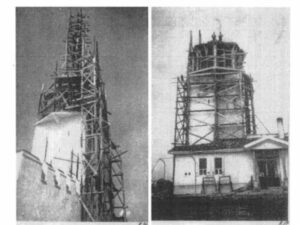 Further strengthening was done after an earthquake and tsunami in the Sea of Marmara in 1999. The interior was converted into a café and restaurant overlooking the old city of İstanbul, a former Roman, Byzantine and Ottoman capital.
The tower is scheduled to reopen as a museum in 2023 after the current restoration.
Turks' angry reaction can be attributed to a series of botched restorations in recent years.
According to observers, the government has hired inexperienced construction companies for restoration projects and failed to implement strict supervision, and this is why botched restorations have become so common in Turkey. The nation's vital tourism sector depends heavily on the country's rich historical heritage.