A local court has blocked access to a website that serves as a stray dog map, showing the location of dogs living on the streets in Turkey, after it drew widespread condemnation on social media for facilitating the mass slaughter of stray dogs, local media reported on Monday.
Access to the website, named "Havrita," a combination of the words "woof" and "map" in Turkish, which allows Turks who see stray dogs in their neighborhood to post their pictures and specific locations, was banned by the Ankara 1st Criminal Court of Peace on Monday.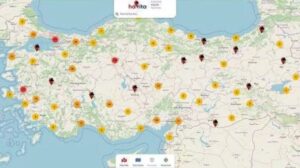 The ban came after animal rights organizations and activists, animal lovers and celebrities criticized the use of the website on social media, saying it paves the way for the recent mass killings of stray dogs in the country by making locating them much easier.
After the images of dogs tortured and killed, in groups in some incidents, as a result of being located via Havrita.com had been shared on social media, the hashtag #Havritakapatılsın (Shut down Havrita) became a trending topic on Twitter, according to Turkish media reports.
A campaign started on the change.org website on Aug. 20 and demanding the closure of Havrita.com has collected more than 80,000 signatures so far.
"Since the launch of this map, animals have been tortured and slaughtered … . The map has no social benefit other than targeting animals," Didem Kurtoğlu, the originator of the petition, said.
The website says in an information text that it aims to "determine where packs of dogs are, determine how many there are and ensure that people are more careful when traveling through areas designated as dangerous."
The killing of stray animals is commonplace in Turkey, with dogs being particular targets. In most cases, perpetrators are people disturbed by their barking or attacks on their livestock or other animals.
Stray dogs, part of daily life across the country, have been targeted even more since the death of a 9-year-old girl who was run over by a car as she was fleeing a pack of dogs in southern Turkey earlier this year.