Fatih Yurtsever*
According to a February 2022 report from the Turkish Energy Market Regulatory Authority (EDPK), Russia supplies 38 percent of Turkey's natural gas.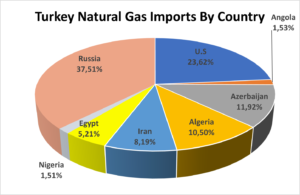 Russia exports natural gas to Turkey through a network of pipelines. The North-South Trans-Balkan Pipeline (TBP), completed in the late 1980s, transported Russian gas to Turkey until January 2020. The TBP passes through Ukraine, Moldova, Romania and Bulgaria. In addition to these countries and Turkey, the TBP also delivered Russian gas to North Macedonia and Greece. The Blue Stream pipeline, which began operating in 2003, is a joint venture between Russia's Gazprom and Italy's Eni. It runs through the Black Sea and ends in central Turkey.
Turkey receives 15 billion cubic meters (bcm) of gas annually through the Blue Stream pipeline and 10.7 billion cubic meters of gas through the TurkStream pipeline, although the latter has a capacity of 15.75 billion cubic meters. However, different tariffs apply to gas purchases through the two pipelines. While TurkStream charges about $1,400 for 1,000 cubic meters of natural gas, Blue Stream costs approximately $400. Why does Turkey pay a premium for TurkStream gas?
The background of TurkStream
TurkStream was conceived after Russia's cancellation in 2014 of the South Stream pipeline project, a Gazprom-led project that would have transported Russian natural gas through the Black Sea to Bulgaria and on to Europe. South Stream was abandoned after Russia's invasion of Ukraine and amid a regulatory dispute between Gazprom and the EU. In late 2014 Russian President Vladimir Putin announced the cancellation of South Stream when Gazprom signed a memorandum of understanding to build TurkStream with BOTAŞ Petroleum Pipeline Corporation, a Turkish state-owned company.
However, Turkey halted the TurkStream agreement process in September 2015 in response to Russia's direct military intervention in Syria. Turkey's bilateral relations with Russia were strained after Turkish warplanes shot down a Russian Su-24 fighter jet on Nov. 24, 2015. President Recep Tayyip Erdoğan sent an official letter to Russian President Putin on June 27, 2016 apologizing for the downed aircraft, initiating a process of normalization between the two countries. One of the conditions set by Russia for the development of relations was the signing of the TurkStream gas pipeline agreement, which was signed on Oct. 10, 2016 as Erdogan sought closer ties with Russia following a coup attempt on July 15 of the same year.
TurkStream was inaugurated by the Russian and Turkish presidents in January 2020. TurkStream is a two-pipeline system with a total capacity of 31.5 billion bcm per year (15.75 bcm each). The pipelines begin in Anapa, Russia, and end near Turkey's border with Bulgaria in Kıyıköy. The gas from the first pipeline is destined for Turkish customers, while the second pipeline transports Russian gas to Europe via Bulgaria. Commercial gas deliveries via the pipeline began on Jan. 1, 2020.
Russia is the winner of the TurkStream project
Since the TurkStream pipeline is 2,100 kilometers shorter than the proposed South Stream (931 kilometers in the Black Sea, 1,455 kilometers in Europe, for a total of 2,386 kilometers), Russia saved $10 billion, bringing relief to the Russian economy, which was struggling due to the drop in oil prices.
TurkStream was conceived as a counterweight to the US-backed Southern Gas Corridor project, which aims to reduce European countries' gas dependence on Russia and connect Azerbaijan and Europe via natural gas pipelines. Three pipelines comprise the Southern Gas Corridor: the South Caucasus Pipeline (SCP) in Azerbaijan and Georgia; the Trans-Anatolian Pipeline (TANAP) in Turkey; and the Trans-Adriatic Pipeline (TAP) connecting Greece and Italy via Albania and the Adriatic Sea. These three pipelines have a combined annual capacity of 16 bcm — about half of TurkStream's total planned capacity. The first gas delivery to Turkey via TANAP took place in June 2018, and the first via TAP in late 2020.
With the TurkStream project, Russia has achieved its goals, which it could not achieve with the aborted South Stream project. The TurkStream project fulfills the same function as the South Stream project, which canceled by Russia due to a regulatory dispute between Gazprom and the EU. Through the TurkStream project, Russia bypassed Ukraine for gas sales to Europe and Turkey, saving tens of billions of dollars and making the project more affordable. It increased Turkey's dependence on Russian gas supplies and cleverly implemented the TurkStream project by using Turkey's exclusive economic zone without demanding significant concessions in return.
Conclusion
Russia prefers to transport gas through pipelines and sell natural gas over a long period of time. In these contracts, the price of gas is determined by a formula based on oil prices. Since the 28-year-old Blue Stream agreement between Turkey and Russia expires in 2026, Turkey continues to purchase gas for $400 per 1,000 cubic meters from Russia via Blue Stream despite high gas prices in Europe.
According to the TurkStream agreement, from January 2020 4 bcm of gas would be transported through the TBP pipeline, the agreement for which was signed between Turkey and Russia in 1998 and expired in 2021. In other words, when TurkStream became active, the gas flow from the TBP pipeline was halted and the gas coming from Russia to Turkey was transported through TurkStream under the same conditions. The contract for the 15.75 bcm of gas to be transported between Turkey and Russia via TurkStream had not been signed at that time. Despite Russia's insistent demands, Turkey did not want to sign a long-term natural gas purchase contract because natural gas prices were lower on the spot LNG market. The fact that businessmen close to the Erdoğan government profited from the LNG trade also played a role in this decision. However, the increase in natural gas demand after the COVID-19 crisis and the sudden rise in natural gas prices made the purchase of LNG unfavorable. Iran's short-term cessation of natural gas supplies to Turkey also created problems for Turkey's energy needs. Turkey then sat down with Russia to buy gas through the TurkStream pipeline. This time, however, the terms were in Russia's favor. At that time, bilateral relations between Turkey and Russia were strained due to Turkey's sale of TB -2 UCAVs (Unmanned Combat Air Vehicles) to Ukraine. Russia offered a formula based on 70 percent of the LNG spot market price plus the Brent Crude Oil barrel price. Turkey had to accept Russia's terms for an annual gas purchase of 10 bcm.
As a result, Turks are paying more for natural gas today because the gas contract for the TurkStream pipeline was not signed in order to protect the profits of businessmen close to the Erdoğan government from LNG sales when the terms were in Turkey's favor.
* Fatih Yurtsever is a former naval officer in the Turkish Armed Forces. He is using a pseudonym out of security concerns.