In a move that raised eyebrows further about the lack of merit-based appointments to state posts under the rule of the Justice and Development Party (AKP) government, a graduate of a vegetable farming vocational school has been appointed as an advisor to  the Turkish Space Agency (TUA), the Birgün daily reported.
The agency, which was established in December 2018 with a presidential decree, aims to make the country's first rough landing on the moon in 2023, as part of a national space program unveiled by President Recep Tayyip Erdoğan in early 2021.
Industry and Technology Minister Mustafa Varank in early December appointed İlyas Haliloğlu, a graduate of the two-year vegetable farming program at Ege University's Ödemiş Vocational School and who also graduated from the faculty of economics at Anadolu University and was working as a technician at the Nuclear Energy Research Institute (NÜKEN), to the new position at the agency, Birgün said.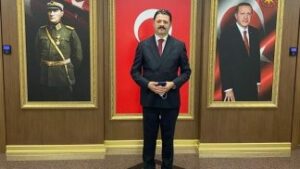 "Dear friends and colleagues; I was appointed to the Turkish Space Agency as a counselor to the president. I always appreciate your prayers and support. Best regards," Haliloğlu said in a handwritten note posted on social media.
Haliloğlu was a prospective mayoral candidate for a district in the eastern province of Van in the local elections in 2014 and for the position of Van deputy in the 2015 elections. He has also served as an advisor to an AKP member of parliament.
According to Birgün, following an earthquake that hit Turkey's eastern province of Van on Sept. 21, 2013, Haliloğlu argued that aftershocks took place because people "hadn't thanked" then-prime minister Erdoğan for what he had done for them.
Erdoğan's AKP government has long been the target of criticism for engaging in favoritism and filling state posts with its cronies.
In October journalist Metin Cihan revealed, citing a document sent to him by a former member of the Turkey Youth Foundation (TÜGVA), on whose advisory board Erdoğan's son Bilal Erdoğan sits, that some executives and members of the foundation were appointed to posts in the Turkish military, police force and judiciary in what appeared to be favoritism.
The journalist also posted an image of an e-mail sent by the former TÜGVA member to him that reveals the system the pro-government foundation uses to get their members into government institutions, which is based on an enterprise resource planning software program.