The western provinces of Turkey, including the country's most populous city of İstanbul, have been hit hard by adverse weather, with eight people dying as a result of weather-related accidents across three provinces, Turkish media reported on Tuesday.
Five people died and 44 were injured in İstanbul, where strong winds ripped 141 roofs from their base and demolished 297 trees, 52 stoplights and traffic signs and damaged 36 vehicles, causing 519 objects to pose a danger to people or the environment, according to a statement by the İstanbul Municipality.
Turkey's Disaster and Emergency Management Agency (AFAD) also announced that the agency had received 2,075 notices of accidents across İstanbul due to the strong winds with speeds occasionally exceeding 100 kph.
Ülke genelindeki olumsuz hava koşullarına ilişkin basın bültenimiz:

— AFAD (@AFADBaskanlik) November 30, 2021
The Bosporus was closed to vessel passage due to the adverse weather, which also impacted other transportation in the city, according to the municipality.
Rising levels of the Marmara Sea caused water-logging along the coastal parts of Kadıköy and Kartal.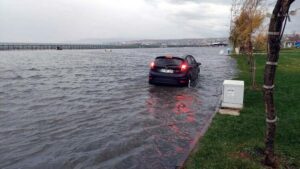 Turkey's northwestern city of Kocaeli was another city affected adversely by heavy storms.
Adverse weather claimed the lives of two people and injured eight others in the city, according to a statement from the Kocaeli Governor's Office.
 One person died in the Ereğli district of Zonguldak province in accidents resulting from the heavy storms.
Accidents and events related to adverse weather were also reported in Bursa, Bolu, Tekirdağ, Yalova and Balıkesir provinces. 
Meanwhile, Turkish Airlines (THY) announced that it has halted ticketing for domestic flights to İstanbul due to heavy storms in the city.
"The strong winds in İstanbul are adversely affecting our operations. Our teams are working hard to ensure safe and comfortable travel for our guests. You can check the status of your travel from our call center or website," THY Press Adviser Yahya Üstün tweeted.
İstanbul'da yaşanan şiddetli rüzgar operasyonlarımızı olumsuz etkilemeye devam ediyor. Misafirlerimizin güvenli ve konforlu seyahati için tüm ekiplerimiz var gücüyle çalışıyor. Seyahatinizin durumunu çağrı merkezimiz ya da web sitemiz aracılığıyla öğrenebilirsiniz.

— Yahya ÜSTÜN (@yhyustun) November 30, 2021
The stormy weather that wreaked havoc in western and northwestern provinces is expected to subside around 6 p.m., according to a weather forecast by the Directorate of Meteorology.
Turkey's weather agency on Tuesday issued orange and yellow-level storm warnings for 67 provinces, the second and third-highest of the four danger levels, BBC Turkish Service reported.
Meteoroloji yarın Güneydoğu Anadolu hariç tüm Türkiye için turuncu uyarı yayınladı https://t.co/oLPGSiN9bd pic.twitter.com/Retuf79TEo

— BBC News Türkçe (@bbcturkce) November 29, 2021