A total of 18,772 people in Turkey took their own lives between 2010 and 2019, an opposition politician revealed on social media, citing data from the Ministry of Health.
Main opposition Republican People's Party (CHP) Deputy Chairman Veli Ağbaba tweeted the response from Health Minister Fahrettin Koca to his parliamentary question regarding suicide figures in Turkey.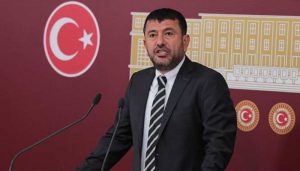 Ağbaba submitted his parliamentary question on April 11, 2019, and the ministry's response came more than two years later.
According to data provided by the Health Ministry, 18,772 people — 14,040 men and 4,732 women — died by suicide in Turkey between January 1, 2010 and January 1, 2019.
"Of those who took their own lives, 1,190 were university graduates, 2,110 were high school graduates, and 6,452 were primary school graduates. Of the people who died by suicide, 853 were students, and the highest rate of suicide was seen in İstanbul," the ministry data revealed.
Regarding Ağbaba's question as to the most common reasons for suicide, the ministry listed them as "psychological disorders, puberty problems, problems with the opposite sex, domestic violence, etc."
In a series of tweets regarding the ministry's response, Ağbaba argued that suicides have peaked during the time that the Justice and Development Party (AKP) has been in power. "According to the ministry's statement, approximately 1,887 died every year, or approximately six a day, by taking their own lives during the last 10 years. And these figures do not include data for the pandemic era," he tweeted.
Ağbaba also criticized the Ministry for the reasons given for suicide, simply referring to them as "psychological." He maintained that the factors affecting people's psychology were political, associated with the atmosphere of helplessness and despair created by the AKP.
"Financial difficulties, unemployment and poverty experienced by people, mobbing in workplaces, concerns about what the future will bring and the crisis that is worsening with every passing day for merchants and businesses unfortunately exacerbate the perceptions of helplessness and the atmosphere of despair," he said.
The CHP deputy chairman also drew attention to the fact that 853 students have died by suicide, saying: "Young people take their own life in their prime. These suicides are covered up as if they were individual incidents."
Ağbaba also reminded that the Turkish Statistical Institute (TurkStat) has stopped reporting statistics on suicide and that the number of suicide attempts ranged between 40,000 and 150,000 annually.
The already deteriorating economy, where double-digit inflation and a slump in the lira's value is hitting living standards, has worsened due to the COVID-19 pandemic and measures imposed to contain the spread of the virus, putting many people into poverty.
According to a survey conducted in May by MetroPoll, 26.6 percent of Turks say they can't meet their basic living costs, while 54 percent state that they barely do.