Turkish President Recep Tayyip Erdoğan and the main opposition leader have exchanged words over the latter's plans to sell 13 jets used by Erdoğan and his government officials when he comes to power and use commercial flights instead for official travel.
Republican People's Party (CHP) leader Kemal Kılıçdaroğlu drew the ire of Erdoğan, who is criticized for his lavish palaces and luxurious official cars at a time of increased poverty among Turks, when he said: "I am a financial officer [by profession]. I gave 27.5 years to the state. I know how to collect taxes, draft budgets, spend money, save money and prevent waste. Are there 13 aircraft [used by the government]? I will sell them. Are there luxury cars? I will sell them."
Erdoğan criticized Kılıçdaroğlu at a meeting of his party in Ankara on Thursday, asking Kılıçdaroğlu if he would take commercial flights around the world if he comes to power.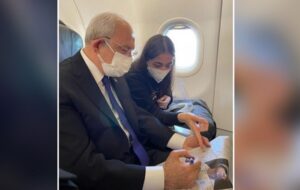 "Will you be ruling the country when you sell the aircraft? You will travel the world. On what? On commercial flights? You can also go by bus. Then you will rise to the level of contemporary states. You have a lot to learn," Erdoğan said.
Erdoğan, his family and government are frequently criticized for their love of wasting taxpayers' money on excessive luxury and mismanaging Turkey's resources.
Kılıçdaroğlu was quick to respond to Erdoğan's remarks later on Thursday, calling on the president to call for early elections to see if Kılıçdaroğlu will really sell the planes and not be afraid of taking commercial flights.
"It looks like you view going somewhere on a commercial flight or the subway or the train as something dreadful. Don't be afraid, it's not so bad. You can mingle with your people, you can listen to their problems. You need to do that a lot these days, just saying," Kılıçdaroğlu told Erdoğan.
Erdoğan raised eyebrows in 2018 when Qatari Emir Tamim bin Hamad Al Thani gave him a specially equipped Boeing 747-8.
Turkish media outlets reported back then that the airplane, which was originally to be sold on the secondary market at a price at $400 million, landed at İstanbul's Sabiha Gökçen Airport to join Turkey's presidential fleet.
Having a capacity of 400 passengers under normal circumstances, this particular Boeing 747-8 was modified to provide meeting rooms and a bedroom as well as a special infirmary and can carry up to 76 passengers along with a flight crew of 18.
Kılıçdaroğlu strongly criticized Erdoğan back then for accepting the jet as a gift, saying: "Is the president of the Republic of Turkey using a gifted plane? If he has any honor he'd return it tomorrow."