Alin Ozinian
Turkish President Recep Tayyip Erdoğan's appointment of an outside rector to Istanbul's prestigious Boğaziçi University has led to 27 weeks of demonstrations, hundreds of arrests and one of the most sustained protests in recent years against Erdoğan's rule.
The protests began in early January, immediately after Erdoğan appointed Melih Bulu, a former parliamentary candidate for Erdoğan's ruling Justice and Development Party (AKP), as rector. The biggest demonstrations since the Gezi protests, which swept across Turkey in the summer of 2013, have reawakened awareness of one of Turkey's most important problems — Erdoğan's commanding sway over state institutions.
Protests over Bulu's appointment spread through Istanbul and the rest of the country, resulting in a police crackdown that saw hundreds of students detained, their homes raided and their supporters denounced as "terrorists" by government officials.
While critics say Bulu is not qualified for the position and that a state-appointed rector harms the independence of the university, many argue that the move is part of Erdoğan's broader effort to centralize control over universities.
Last week, loyalist Bulu barred students and academics from entering the campus and cited "health and security reasons" for the ban. But according to students and academics, it was obvious that the main aim was to prevent students from continuing their protests.
"I am being barred from entering Boğaziçi University, where I've been lecturing for 17 years," academic Can Candan tweeted under the hashtag #BoğaziçiKilitAltında (Boğaziçi is locked up).
Turkish Minute spoke with Can Candan, a Boğaziçi University faculty member and documentary filmmaker, about the latest situation in the Boğaziçi protests.
What is happening at Boğaziçi University?
Boğaziçi is under assault, and this has been going on for more than six months now. The government is trying to take control of Boğaziçi University, one of the best public universities in Turkey, known as a bastion of democratic and progressive values, critical thinking and freedoms enjoyed by all.
This planned assault began on January 2 with the appointment by decree of an AKP-affiliated person as rector with a complete disregard of our will and the due process of elections. Then came the establishment of two new schools (the School of Law and the School of Communication) overnight, again by decree and with no due process. The establishment of new schools, and now possibly new institutes, is a way of controlling the governing bodies of the university, namely the Senate and the Executive Board.
What are they – the AKP and Melih Bulu — trying to do? What is their ultimate goal?
By establishing new positions and appointing themselves to multiple administrative positions Melih Bulu and his collaborators are trying to increase their votes and impose their control. This is an attempt to make something illegitimate seem legitimate. They are trying to legitimatize their moves; they say, "See, everything we do is approved by the governing bodies of the university."
What has been done so far was all done through a series of acts of violence, including psychological, procedural, judicial and physical violence directed against all the stakeholders, namely the faculty, students, staff and alumni, for expressing their disapproval and outrage. The campus has been turned into a securitized zone with closed gates, surveillance cameras, increased security personnel and plainclothes police everywhere.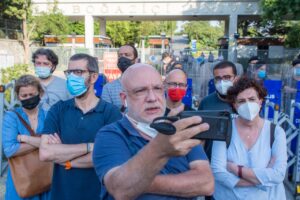 The protests have been going on for more than six months. How long will they continue?
The protests will continue as long as they need to. Melih Bulu and his collaborators, especially those who have shown up at our university since January, will need to go because, we, as the faculty of a 159-year-old institution of higher education and with the last 51 years as a public university, are bound by the principles of institutional autonomy, academic freedoms and democratic values set out by the University Senate.
What has happened here at Boğaziçi in the last six months is a clear violation of these principles, and these violations and the resulting damages can not be tolerated. This is our duty to ourselves as academics and to our students as well as to the public as public servants at a public university.
As an academic, how would you characterize the resistance of the Boğaziçi students?
Our students are well aware of what has been going on at their university since this appointment, and they are also well versed about their rights. I think they see this primarily is as an assault on their right to free, world-standard education and on their freedoms. So they are using creative methods to express their disapproval by exercising their constitutionally protected right to protest peacefully and challenge Melih Bulu and his collaborators. I admire them. They have been a very important part of the resistance that has lasted for six months with no sign of abating.
Last week academics and students were not being allowed to enter the Boğaziçi University campus by Rector Bulu. You were one of those academics. How did you feel when security wouldn't let you in?
In the afternoon of Saturday, July 3, we went to the university to work in our offices as we usually do, especially at the end of the semester, when we read and evaluate our students' work, and were denied access by campus security. When we asked why, we were told that the university had closed down.
Apparently, that morning an e-mail was sent by the university stating that access to the university was restricted until Monday morning for security and health reasons. There was no other explanation. As we have a right to go to work and be at our university, we started waiting at the gate to be granted access. Not only were we not able to enter the campus, but the police also pushed us away from the gate and threatened to take us into custody.
As this was happening a group of students who were on campus overnight was forcibly and violently pushed out of the campus as we watched helplessly from behind police barricades. It was awful to feel so helpless while our students were being beaten up by campus security, whose duty is to protect all of us, including our students. The denial of access to our offices and our campus without a credible and legitimate reason is a clear violation of our rights. The physical violence directed at our students is a clear violation of their rights. We will do everything in our power to bring those responsible to justice.
Who supports the protests in addition to academics, students, staff and alumni of Boğaziçi?
The biggest support we have been getting is from the public. A poll by KONDA released on April 2 showed that almost 70 percent of the public is in support of us. This is also obvious on social media and in our daily interactions with members of the public.
I think the public at large is very well aware that one of the best public institutions of higher education in the country is under threat, and the damage is becoming more and more apparent every day. If people become more vocal about their disapproval, this will inevitably affect what happens at Boğaziçi and possibly elsewhere. It is on all of us to defend this institution and in general the right to free and high-quality education for all.
In the meantime, journalists, writers and academics started a signature campaign on the change.org website demanding that Boğaziçi University be "autonomous and free" and had collected more than 4,600 signatures as of July 8.
"We cannot remain silent about what is happening at Boğaziçi University, one of the country's most valuable educational institutions. … In order for universities to preserve the values they should have, we must defend autonomous and free institutions and science and merit-based education to the end," the group said, asking for support for the campaign.