A personnel manager from the presidency has been elected by parliament as the new president of the Court of Accounts, the government body responsible for auditing the accounts of public agencies and political parties, local media reported on Tuesday.
Presidency Personnel and Principles Director Metin Yener received 255 votes in a secret vote held at parliament's General Assembly on Tuesday to determine the new head of the audit institution, while his only rival, Mehmet Aksoy, a member of the Court of Accounts' 6th Chamber, garnered only four.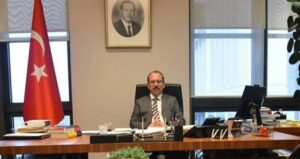 Speaking prior to the election, main opposition Republican People's Party (CHP) deputy group chairman Özgür Özel criticized Yener's candidacy for the post, saying he has no background in the Court of Accounts.
"The palace [President Recep Tayyip Erdoğan] is appointing a trustee to the Court of Accounts. We won't be part of this election, we won't legitimize this appointment," Özel said.
"How will somebody who receives multiple salaries be able to detect irregularities?" CHP MP Tuncay Özkan said in a tweet, referring to a report by the Birgün daily that recently revealed 54 officials from the presidency and the ruling Justice and Development Party (AKP) who were receiving salaries from private enterprises in addition to the government.
Deniz Yavuzyılmaz, another CHP deputy, also had protested Yener's candidacy for the post last week, noting that Yener was already board chairman of TTNET, a subsidiary of Turkish telecommunications giant Türk Telekom, the largest Internet service provider in the county, and president of the Turkish Boxing Federation, in addition to his post in the presidency.
Having graduated from the department of economics at Gazi University's faculty of economics and administrative sciences, Yener completed his master's degree in economic policy at Gazi University and public administration at Indiana University. He was appointed deputy director-general of the department of laws and resolutions at the Prime Ministry in 2012, personnel and principles director at the Prime Ministry in 2014 and as presidency personnel and principles director in 2018.