An aide to Turkish President Recep Tayyip Erdoğan has criticized the UK-based Financial Times newspaper for using a photo from the NATO summit that shows Erdoğan, without a mask, as if he were bowing before US President Joe Biden, on its front page in its Tuesday edition.
İsmail Cesur on Tuesday posted a tweet, sharing the front page of the FT that includes the shot taken at the NATO summit in Brussels on Monday, ahead of Erdoğan's first meeting with Biden since his inauguration in January 2021.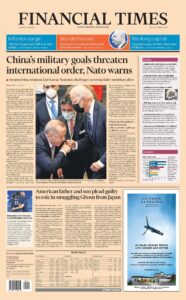 "The Financial Times' use of this photo, which has been exploited all day to create a [false] perception [of Erdoğan], among others, is, in itself, an indication of the extent of Erdoğan's struggle and the arenas where it has been taking place. We will stand behind you to the end, world leader," Cesur said, addressing Erdoğan.
According to Turkish media reports, the photo, shared by both the AFP and Reuters international news agencies, was taken while an unmasked Erdoğan was getting up from his chair to give Biden, who wears a mask, a fist bump, a manner of greeting that has beeb widely used amid the coronavirus pandemic.
Many foreign news outlets highlighted, releasing photos of Erdoğan greeting Biden, that the Turkish president wasn't wearing a mask although one of the issues on the NATO summit's agenda was efforts to combat the pandemic.