Turkish courts sentenced 266,811 people to prison on convictions of terrorism between 2016 and 2020, abusing vague anti-terrorism legislation, according to a recent survey by the Arrested Lawyers Initiative of Justice Ministry data.
According to the survey official statistics highlight that Turkish public prosecutors filed more than 420,000 charges under Article 314 (membership in a terrorist organization) of the Turkish Penal Code in the last eight years. 
According to a report by the Council of Europe, Turkey has the largest population of inmates convicted of terrorism-related offenses. The report shows there are currently a total of 30,524 inmates in COE member states who were sentenced for terrorism, and of those, 29,827 are in Turkish prisons.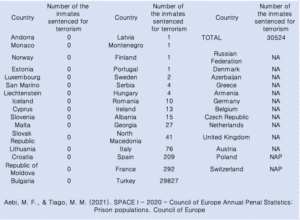 "The problem is that the Turkish Penal Code contains neither the definition of what constitutes armed organizations and armed groups nor the offense of membership," the Arrested Lawyers Initiative states. "The lack of legal definitions and criteria of what constitutes an armed terrorist organization and the offense of membership in the armed terrorist organization makes these articles prone to arbitrary application and abuse."
Under the Turkish Penal Code, offenses under Article 314 carry a sentence of between seven-and-a-half and 22-and-a-half years in prison.
"Vague formulation of the criminal provisions on the security of the state and terrorism and their overly broad interpretation by Turkish judges and prosecutors make all critics, particularly lawyers, human rights defenders, journalists, and rival politicians, a potential victim of judicial harassment. This indistinct area under the Turkish Penal code is actively used by the Turkish government to investigate, prosecute and convict opponents," the initiative said.
Turkey has also been using the vague formulation of the anti-terrorism legislation in its hostage diplomacy. 
According to a report titled "Erdogan's Hostage Diplomacy – Western Nationals in Turkish Prisons" undertaken by the Foundation for Defence of Democracies (FDD), more than 30 Western nationals have been jailed in Turkey since a failed military coup on July 15, 2016. Almost all of these foreign citizens were accused of terrorism-related offenses.
"Besides foreigners, deputies of People's Democratic Party (HDP) and the Republic People's Party (CHP), the chairperson and the director of the Amnesty (Turkey branch) Taner Kilic and Idil Eser, philanthropist businessman Osman Kavala, 1,542 lawyers, including presidents of 14 regional bar associations, more than 150 journalists, and innumerable others have all been accused of being a member of an armed terrorist organization or aiding and abetting one or more of those," the Arrested Lawyers Initiative said.
Turkey's anti-terrorism legislation has been criticized by the European Union, the Council of Europe (CoE), United Nations human rights bodies and international human rights organizations for years.
"Turkish prosecutors regularly open terrorism investigations into people for peacefully exercising rights to freedom of expression, assembly, and association," Human Rights Watch said in a statement.
The EU and the CoE have urged Turkey to make its anti-terrorism legislation compliant with human rights standards, including the European Convention on Human Rights and the jurisprudence of the European Court of Human Rights.