Cevheri Güven
In a video series that drew millions of views among Turks, notorious crime boss Sedat Peker has begun revealing the alleged involvement of Turkey's ruling Justice and Development Party (AKP) in international cocaine trafficking. According to Peker, the drug is being shipped to Turkey from Venezuela and then transferred to the Middle East on luxury yachts while the financial gains are laundered in the Turkish Republic of Northern Cyprus (KKTC), a de facto state recognized only by Turkey.
In reports released regularly by Europol, the European Union agency for law enforcement, Turkey was identified as a transit route for heroin and cannabis originating from Afghanistan and Iran. Yet in recent years the country has become associated with cocaine routes. The first incident that sparked public interest was a statement released by the Colombian Ministry of National Defense in June 2020 which said that some 4.9 tons of cocaine was seized by authorities on a ship bound for Turkey.
Peker, whose YouTube broadcasts have been shaking Turkey, said Turkish authorities took no action against the company that was openly identified as the intended recipient of the seized cocaine. According to him, the shipment was carried out with the knowledge of Interior Minister Süleyman Soylu and former interior minister Mehmet Ağar, and that is why Turkey's narcotics police were prevented from conducting any operations based on the information.
'Former prime minister's son established a new route'
Peker claimed that the shipping route was scrapped upon the discovery made by Colombian authorities and that Erkan Yıldırım, the son of AKP heavyweight and former prime minister Binali Yıldırım, was tasked with finding a new one. According to Peker, Erkan Yıldırım visited Venezuela twice and established a new route for shipping the drugs.
Known as a close confidant of President Recep Tayyip Erdoğan, Binali Yıldırım made a statement following Peker's allegations, explaining that his son had visited Venezuela to deliver COVID-19 aid consisting of masks and testing kits. Yet customs registries contradict Yıldırım's assertion since exporting masks and testing kits are subject to authorization under Turkey's COVID-19 regulations and no such items have been sent to Venezuela in the last year. Peker said the decision to prefer Venezuela had stemmed from the absence in the country of units from the Drug Enforcement Administration (DEA), the US federal agency for combating drug trafficking.
Peker's revelations were corroborated by a trade agreement that was concluded between Ankara and Caracas. After the ratification of the agreement in July 2020, Turkey lifted tariffs on some products, which accelerated the freighter traffic between the two countries. One of the items that became duty free was cheese.
Economist Murat Muratoğlu was one of the first to notice the uneconomical nature of shipping cheese from a distance of some 10,500 kilometers (6,524 miles) and to ponder whether there could be underlying motives.
"It takes quite a commercial mind to bring in duty-free cheese from Venezuela, which is located at about 10,500 kilometers from Turkey, a voyage that takes 35 days and implies a freight charge higher than the cost of the product itself, whereas Turkey already manufactures 193 types of cheese. The other option is worse!" Muratoğlu wrote.
https://twitter.com/sozcumuratoglu/status/1396455065569857547?s=20
The "other option" that Muratoğlu was talking about soon surfaced. Three months after the agreement, the Venezuelan military announced the seizure of cocaine stashed inside hundreds of blocks of cheese that were loaded on a ship.
https://en.ultimasnoticias.com.ve/news/crime/they-detected-108-cocaine-panelas-hidden-in-cheese/
Details of the new route
Peker said the cocaine that was brought to Turkey was not, as many suspected, sent on to Europe but was instead routed to Turkey's domestic market and the Middle East, where the drug is more expensive than in Europe. According to his claims, the contraband is first brought from Colombia to Venezuela and then shipped to Turkey, where it is divided into smaller batches and transported to the Middle East on luxury yachts.
At this juncture, it is important to remember the Yalıkavak Marina, a luxury marina on the Mediterranean which, according to Peker's earlier revelations, was extorted from Azeri oligarch Mübariz Mansimov for the suspicious price of $29 million despite the fact that its value was estimated at $1 billion. Following the politically motivated detention of Mansimov, former interior minister and close Erdoğan associate Mehmet Ağar was installed on the marina's board of directors and its ownership was transferred for an amount significantly lower than its market value.
Peker claimed the takeover of the marina was connected to drug trafficking. Yalıkavak Marina is a major hub for luxury yachts belonging to oil-rich Arab sheikhs, princes, Middle Eastern businesspeople and the wealthy. Peker said the marina was being used for the transportation of drugs to the Middle East, which was coordinated by Mehmet Ağar. The former interior minister is a figure whose name has for decades been associated with Turkey's mobs, and his son, Tolga Ağar, is currently an MP and a regional executive for the ruling AKP.
According to Peker, the most crucial pillar of the trafficking was Cyprus, where the KKTC was used for laundering the profits. For this, Peker pointed to a certain Cyprus-based person named Halil Falyalı.
Falyalı owns several casinos and hotels in the KKTC including Les Ambassadeurs Hotel & Casino, one of the island's most luxurious. With his lavish lifestyle and dozens of expensive automobiles such as Ferraris and Bentleys, Falyalı made the headlines in 2019 with rumors that he was going to purchase the British Fulham football club. He is also accused of orchestrating an illegal betting network that is popular in Turkey and of being involved in the drug trafficking to the Middle East.
According to Peker, Falyalı shipped some of the cocaine that was brought to Turkey to the Syrian port of Latakia, where the DEA does not maintain representation, and from there to various countries around the region.
In May 2011 a US district court in Virginia charged Falyalı with money laundering and drug trafficking under case number 1:15MJ371. The trial was concluded in absentia in 2016, and Falyalı was found guilty. He has been wanted by US authorities ever since. That is why Falyalı never leaves the KKTC. Enjoying considerable influence over the small island with his multibillion dollar fortune, Falyalı has thus far managed to avoid any handover to the US.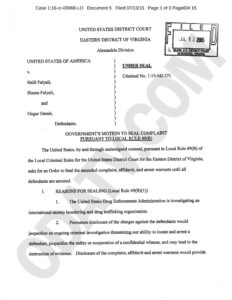 Peker said Falyalı is also influential in the Erdoğan government and that he possesses sex tapes of a number of politicians and bureaucrats whom he hosted at his luxury hotels in Cyprus.
It is highly unlikely that the KKTC would shield Falyalı from the US without Ankara's approval. Rather than Falyalı's alleged sex tape archives, this policy is arguably connected to the drug trafficking that has poured billions of dollars into Turkey.
According to Peker, Erkan Yıldırım, former minister Mehmet Ağar and Halil Falyalı are in charge of the cocaine operation, while current interior minister, Süleyman Soylu, provides immunity to these figures. The revenue is laundered through Falyalı's casinos in the KKTC and on online betting sites before being injected into Turkey's economy.
Steering Turkey's political debate from Dubai
Peker, who in the past collaborated with Erdoğan, is an influential figure for Turkey's nationalistic youth. Between 2015 and 2019 he has held rallies in predominantly right-wing provinces to raise votes for Erdoğan, and he seemingly enjoys strong connections in the media, politics and police as well as the military. Following a rift with Erdoğan's son-in-law Berat Albayrak, he abruptly left Turkey in early 2020 and settled in Montenegro. Peker later moved to Dubai and released the first of his video series on May 2, 2021. In addition to his personal YouTube channel, his videos are also being widely circulated on other YouTube channels and social media platforms. It is estimated that each video is watched about 30 million times in total. Peker's revelations have rattled some of the most important figures in Erdoğan's power circle and have become the country's most sensational topic of discussion.