A Turkish crime boss who has been making scandalous allegations about the relationship between state actors and the mafia has claimed that a paramilitary group established by a former aide of the Turkish president sent weapons to the al-Qaeda-linked al-Nusra Front in Syria in 2015.
In his eighth video posted on YouTube on Sunday, Sedat Peker, the head of one of Turkey's most powerful crime groups who was once a staunch supporter of President Recep Tayyip Erdoğan, said the weapons to the radical al-Nusra group were sent in 2015 by SADAT International Defense Consultancy, a paramilitary organization established by Adnan Tanrıverdi, a former aide to Erdoğan.
Peker has since early May been setting the country's political agenda through videos he posts on YouTube, with each watched by millions of people immediately after their release. His eighth video has so far been watched by more than 10 million people.
Trucks that allegedly belonged to Turkey's National Intelligence Organization (MİT) which were carrying weapons to jihadists in Syria were caught near border in 2014, sparking a political firestorm in Turkey about the role of the Turkish spy agency in arming rebel factions in Syria.
Turkey's ruling Justice and Development Party (AKP) and then-Prime Minister Erdoğan strongly denied the claims, saying the trucks were carrying humanitarian aid to Turkmens in northern Syria.
In his latest video, Peker said following the stopping of the MİT trucks in 2014, his organization decided to send military equipment, including drones, to Turkmen rebels in Syria's Bayırbucak region in an attempt to encourage them. He said he talked to an unnamed AKP deputy about his intention and that this deputy sought permission from Turkish authorities for Peker's organization to send aid to the Turkmens.
The mafia leader said other trucks arranged by SADAT were also added to trucks operating under his name to be sent to the Turkmens but that he later realized they were being sent to al-Nusra jihadists and were loaded with weapons.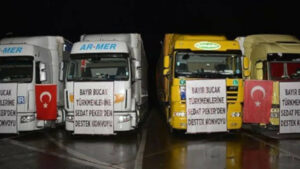 "We knew they were carrying weapons, we're not children…. A group within SADAT organized this," said Peker.
The radical Syrian group is designated as a terrorist organization by Turkey, the United States and other countries. The group currently operates under the name of Hayat Tahrir al-Sham.
SADAT was founded in 2012 by 23 retired military officers to provide consultancy and training in the field of defense. According to the organization's founding documents, its mission is to make the Islamic world self-sufficient in terms of military power. Retired general Tanrıverdi said SADAT was set up at the request of officials from Erdoğan's government.
SADAT, meanwhile, released a statement on Sunday denying Peker's claim that the group sent weapons to al-Nusra in Syria. The group said it has no links to any terrorist groups, claiming that Peker actually confessed to his own crime of sending weapons to radical groups in his statements.
Following the mafia boss's revelation, Can Dündar, a Turkish journalist who along with fellow journalist Erdem Gül stood trial for reporting in May 2015 on the MİT trucks that allegedly carried weapons to the jihadist groups in Syria and was sentenced to 27 years on various charges including espionage, made a statement saying that Peker's claims confirmed the authenticity of his report, which was published in the Cumhuriyet daily.
He said the prosecutors and military officers who were prosecuted and given lengthy jail sentences for stopping the MİT trucks as well as the journalists who reported on these trucks like him were paying a price for uncovering the truth behind the MİT trucks.
Dündar fled Turkey in 2016 to avoid a crackdown on journalists critical of the government and has been living in exile in Germany ever since.