A local governor's office on Monday banned events scheduled to take place in central İstanbul to mark the eighth anniversary of the anti-government Gezi Park protests, citing pandemic measures.
The decision was made by the Beyoğlu District Governor's Office just hours before the events were scheduled to begin in and around the popular Taksim neighborhood.
The protests in 2013 erupted over government plans to demolish Gezi Park in Taksim. They quickly turned into mass anti-government demonstrations that were violently suppressed by the government, leading to the death of 11 protestors due to use of disproportionate force by the police.
The events were to take place under the auspices of the Taksim Solidarity Platform, which called on people to participate in a tweet, saying: "Darkness goes away, Gezi remains. We will be in Taksim with the hope of equality, freedom and justice on the anniversary of the Gezi resistance, which came into our lives in all its beauty eight years ago."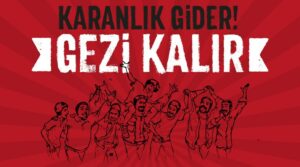 The district governor's office banned all marches, press releases and demonstrations on Monday in Beyoğlu, where Taksim Square is located. The Taksim stop on the İstanbul metro line was also closed down until further notice on Monday, according to a statement from the İstanbul Governor's Office.
In the same venue, however, Turkish President Recep Tayyip Erdoğan on Friday inaugurated a mosque, with several thousand people praying outside because the mosque was filled to capacity. No pandemic measures were observed for the opening of the mosque in Taksim Square, a longstanding dream of Erdoğan as the area is known as the country's secular heartland.
When Erdoğan served as İstanbul mayor in the 1990s, he lamented the absence of a mosque in Taksim Square, noting that the only visible religious site was an Orthodox church in an area not too far away.
Erdoğan and his ruling Justice and Development Party (AKP) are accused by critics of using the pandemic to further silence dissent in the country.