Cevheri Güven
Behind bars since 2015, Gültekin Avcı is one of dozens of imprisoned journalists and writers in Turkey who are becoming more and more forgotten. In December 2020 he was sentenced to aggravated life and to an additional 44 years in prison. A few professional organizations have been struggling to keep alive the memory of Avcı, who is doomed to spend the rest of his days in a solitary cell.
Avcı, who in addition to his career as a writer and journalist is also an attorney at law, is no stranger to courthouse corridors. He continues to grapple with a multitude of lawsuits over his publications and social media commentary, mostly filed by President Recep Tayyip Erdoğan. In the 1990s and early 2000s, when Turkey's military exercised considerable influence over politics, Avcı had faced a number of investigations due to his articles and books criticizing the army's pressure on democracy. His stance on Erdoğan's increasing authoritarianism after 2010, however, would result in much more serious repercussions for him.
What truly brought Erdoğan's wrath upon Avcı was when he became an attorney for Hidayet Karaca, a TV executive at the now-shuttered Samanyolu Medya Grup who was arrested in December 2014 over the script of a TV show. During his defense of Karaca, Avcı described Turkey's courts as the ruling Justice and Development Party's (AKP) inquisition and said the judgments they delivered, including that for his client Karaca's arrest, had come from Erdoğan's palace.
Following these allegations, Avcı became a direct target, and he himself was arrested in September 2015. He was briefly released eight months later, in June 2016, only to be rearrested in August 2016. His second release in September 2019 only lasted a day. One of the trials he faced was concluded on Dec. 17, 2020, and he was sentenced to aggravated life as well as 44 years in prison. After the verdict, Avcı was put in a one-person cell where he is expected to spend the rest of his life.
The sentence was handed down to him over his article published in the now-closed Bugün newspaper about Iranian espionage in Turkey. In the article, Avcı had written that an Iran-backed spy network named Tawhid-Salam had penetrated high levels of the Turkish government through a number of methods of subterfuge including honeytrap schemes, the use of sex to entrap targeted officials.
The revelation of the network's ties to AKP executives, including Faruk Koca, one of the party's founders, had angered Erdoğan. While then-Justice Minister Bekir Bozdağ denied Tawhid-Salam's existence, the courts had ruled otherwise at the time.
Avcı's publications would later be corroborated by Iranian journalist Savash Porgham and the British Sky News channel when they reported that the Iranian secret service had used a female agent named Saberin Saidi to abduct and smuggle Iranian dissident Habib Chaab out of Turkey. Chaab, who had been living in Sweden for 14 years, was lured to Turkey by Saidi and on Oct. 9, 2020 was abducted from the house where they had met and rendered to Iran. The allegation was confirmed by the Turkish police and intelligence agencies, which submitted supporting evidence to the court.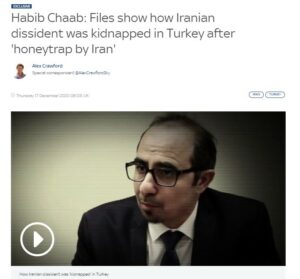 Although the incident vindicated Avcı's articles on Iranian intelligence's use of what they refer to as "stool pigeons" in their espionage in Turkey, this was completely ignored by the İstanbul 14th High Criminal Court, known for the politically motivated prosecution of the many government critics, which ended up sentencing Avcı to aggravated life.
Avcı's family members were not spared, either. His father İsmail Avcı was detained in 2016 for allegedly organizing meetings to raise support for the Peoples' Democratic Party (HDP), a pro-Kurdish political party that has been the target of another crackdown since 2016.
Double standard in professional organizations?
Prior to his arrest, Avcı's articles were published in the Bugün newspaper, which, until it was seized by the government in 2015, was owned by Akın İpek, a businessman close to the faith-based Gülen movement. Journalism advocacy organizations are criticized for discriminatory stances when it comes to the imprisonment of media employees who used to work for Gülen-affiliated outlets.
"It is obvious that journalists and writers who in the past had worked in Gülen-linked media outlets are being ignored by professional organizations. Avcı's trial and sentence arose entirely from his journalistic activities. He was convicted solely based on his columns. It is not just Avcı. Many journalists and writers in pre-trial detention or serving sentences are similarly being ignored," says Mustafa Kılıç, secretary-general of the International Journalists Association (IJA).
İsmail Sağıroğlu, the coordinator of the Jailed Journos platform, believes that professional organizations have not risen to the occasion.
"Journalism associations have abandoned journalists. Only a handful of journalists were brought to the fore while a significant majority was overlooked. Those in prison complain about this. In their letters from prison they explicitly express their disappointment that they have been left alone," Sağıroğlu says.
Sağıroğlu quoted Ufuk Şanlı, a journalist who used to work for the Zaman, Sabah and Vatan newspapers and in prison for five years, who said no one from professional networks or NGOs has visited him in prison. "Many of my fellow journalists here are thinking the same. We want to be remembered," Şanlı says.
Özcan Keser, another journalist cited by Sağıroğlu, said: "I am all alone now. I have not received any support from the organizations of which I was a member. I didn't even receive a card on World Press Freedom Day."
In addition to journalism networks, the European Union is also the target of criticism for its biased policy that overlooked some of the journalists. Emre Soncan, a 39-year-old journalist held in prison for five years, said in a letter that "European policymakers have turned their backs on the question of freedom of speech due to their interest-based relations with the Turkish government. In fact, they are being disloyal to the values that have made Europe what it is."
"I do not want to even begin with the professional advocacy networks in Turkey. Unless they rid themselves of their ideological bigotry which [renowned Turkish author] Cemil Meriç described as a straightjacket, as long as they confine their concern to colleagues close to their mindset, it is impossible for them to truly serve the cause of press freedom and exert an influence on the political power," Soncan wrote.